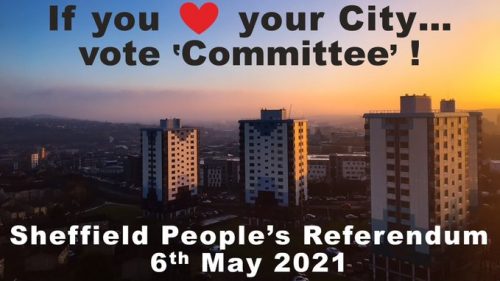 It's encouraging that at least 84% of council election candidates are supporting the It's Our City campaign to change from the "Strong Leader" model to a modern committee system in the May 6th council governance referendum.
Closer analysis shows that most of the remaining 16% that support the "Strong Leader" model are Labour candidates. But only one current Labour councillor is supporting change. The 20 candidates yet to offer support as at April 13th included an old guard of 9 male Labour councillors with more than 200 years combined service, including current Cabinet member Mazher Iqbal and council leader Bob Johnson.
It's Our City has grown directly from peaceful street tree protesters outraged at their treatment by the Labour-run council. The completion of work on the Western Road memorial trees has underlined that previous claims that affordable engineering solutions were not available were untrue and dishonest.
This referendum did not need to take place. The council could have made the change in response to the 26,000 signature petition – as other councils have done. The Cabinet could have radically changed the way that they make decisions, interact and consult with Sheffield residents.
But Covid-19 has been used to further close down democracy and opposition voices in Sheffield, with more decisions being made behind closed doors and not open to scrutiny. And the press release rushed out in March to use £650,000 of vital council reserves (£1.2 million in total) on Local Area Committees clearly had one aim only – to win votes for the council leader's preferred referendum option.
Currently all decisions are made by a small group of councillors, leaving most Sheffielders without a voice. The councillors that wield the power in the Labour group clearly want that situation to remain. Local democracy has plumbed the depths in Sheffield in the last 5 years – Vote for Change on May 6th.
Bernard Little
Green Party candidate, Walkley ward