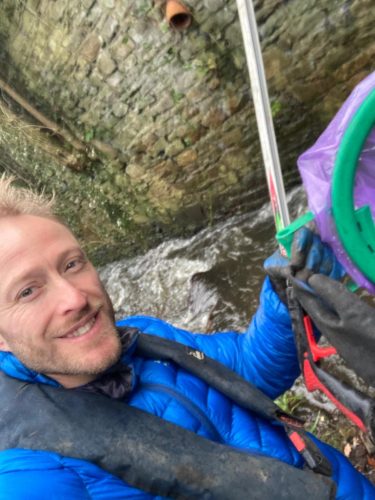 Peter Gilbert is the Green Party candidate for Ecclesall ward in the local elections on May 4th 2023. 
I'm asking for your support in the local elections on 4th May.
My family and I live in Ecclesall, I was born here so I know the area well and I am part of the community here. I care about our area and want to see it get the attention it deserves from Sheffield Council.
This area has had Lib Dem councillors for over 30 years. Having spoken to many of you over the years, I know you feel that they have taken votes for granted and can't be trusted.
On Sheffield Council, Green Party councillors have a strong track record of standing up for their areas. Greens pushed for an independent inquiry into the needless felling of healthy street trees – despite Lib Dem councillors refusing to collaborate with us.
Now this report has been published, we know there was a "serious and sustained failure of strategic leadership" when both Lib Dems and Labour ran our Council. Only Green Party Councillors opposed the involvement of Amey, a private company, to manage our highways.
If elected, I will be free to stand up for you. Green Councillors are not told how to vote by party bosses – unlike Lib Dems or Labour. We are able to stand up and do what is best for the communities we represent.
Now more than ever, our area needs a strong voice. Now is the time for a change!
The choice this election is clear. Another Lib Dem councillor who is told what to do and how to vote, or an independent hard working local campaigner with a track record of working hard all year round.
Please use your vote to elect me to represent our area on 4th May.
Please contact me if you have any enquiries about my candidacy or if you would like to display a poster in support of my campaign via ecclesall@sheffieldgreenparty.org.uk or 07596 245218.
For information about Peter and the election campaign please click on the links below. You can also get in touch with the Ecclesall team via email at ecclesall@sheffieldgreenparty.org.uk to find out more or support us by putting up a window poster.
Sheffield Council agrees budget in first budget meeting since committee system.
Latest news from Ecclesall Ward (including newsletters)
Peter opened up his 'eco' home to share his experience of installing an Air Source Heat Pump and exciting insulation (Sheffield Star).
The Green council budget proposals for 2022/23 offered a manifesto for council action to address the climate emergency.