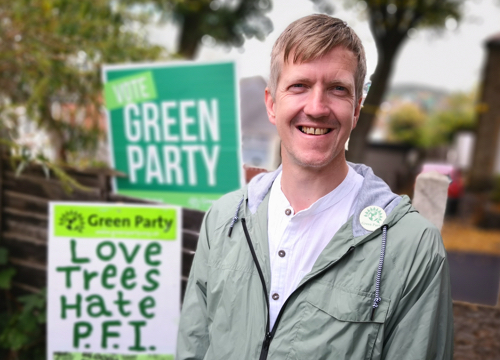 It's been a whole year since I was elected! It's flown by! We have achieved a lot in this time but there is so much more we want to do. It's also been nine months since my last "quarterly" blog so I'll quickly catch up.
Our work was interrupted in November when a general election was called. Personally, I wasn't pleased with the decision made by the government and have never been less enthusiastic about an election. It all seemed to be on a hiding to nothing, but it ended up being much worse than that.
There was a lot of macho strutting about from the Tories, Labour and Lib Dems, all claiming they were about to go out and win the election. This of course was utter nonsense and I feel like it added to the lack of trust the public holds for these parties. Labour cannot outright win a general election now the SNP has so many seats, and Wales is not the solid red it used to be either. The best outcome anyone could have hoped for was an anti-Tory majority. Of course there was already an anti-Tory majority in parliament, but Labour weren't interested in uniting.
The Fixed Terms Parliament act requires a two thirds majority to call a general election early, and if Labour had held off backing an election until we had two things, the UK today would have a very different look. Firstly, they should have insisted on a people's vote on EU membership and secondly, a vote on electoral reform to a proportional system. By backing an election on the Tories' terms, they essentially gave us a Tory government with a sizable majority.
I had the honour of being selected as the Green candidate for Heeley. It was the first time I've been a candidate in a general election and I was shocked at the amount of work it involved. Aside from writing literature, film scripts and various other pieces for Sheffield Greens, I received about 600 emails in three weeks from members of the public and organisations asking me to support their particular cause.
We doubled our vote share from the previous general election and moved forwards to Christmas and New Year with a Tory PM, just as we'd had for the previous 10 years. Work started in earnest on winning some new seats in the local election before everything stopped as the Pandemic arrived in the UK. Rather than having another group of Green councillors to work with and having a successful referendum to change the way the council works, we were locked down.
With the lockdown came the democratic lock out. Council decision making was opaque before but with emergency rules now in place, all scrutiny has been blocked and decisions are being made behind closed doors.Reports are published afterwards, if at all, and without any option or possibility of scrutiny.
Since the lockdown my work has largely been in supporting the community; something I am able and equipped to do, being embedded in the community I represent. I have continued to work with the Gleadless Valley foodbank; I have worked with them over the last year to expand the building and we finished the £20,000 project in March, thanks to several businesses giving their services at reduced costs, or even for free. I help with delivering food parcels and with the upkeep of their facilities. I also provide support in raising funds for the foodbank.
I helped set up a project to raise funds for Faunagraphic to paint a mural at Meersbrook Park Pavilion, with Meersbrook Park After School Club and Playcentre. While  the lockdown prevented the project from being completed within the planned time-frame, we are looking forward to seeing it completed once it's safe to go ahead.
I helped coordinate a poster campaign around Gleadless sharing information on how to get support during the pandemic, and I continue to participate in several mutual aid groups around Heeley and Meersbrook. I have been delivering activity packs and jigsaws to sheltered accommodation sites and generally fighting the residents' corner when they have otherwise been isolated by care staff absences.
I have supported the community with a public campaign to discourage people from having bonfires in gardens and allotments, continued the fight against showering our streets with glyphosate and spoken to Police about the increase in motorbikes in Cat Lane woods, encouraging them to make several arrests.
More recently I have asked the council and SYPTE to apply for government funding to reopen Heeley train station. This would be a game changer for the area and would open up the possibilities for introducing tram-trains to the south of the city.
In these difficult times we are trying to place ourselves between the useless and chilling Tory government and the people who will be affected most by their political and dangerous policy decisions. We are calling for the council to keep schools safe for staff and students by refusing to follow government guidance on partial reopening on 1st June.
Green councillors have always felt a great responsibility to the people we represent and carry the weight of expectation. Rest assured that we are always working hard and looking for the best way to do right by the people of Sheffield.