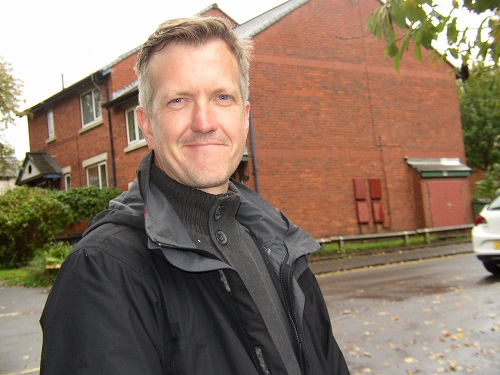 Paul Turpin was elected as a councillor for Gleadless Valley in May 2019.
I'm thrilled that I've been picked to stand for election to represent the people of Gleadless Valley Ward in the local elections 2019. I'm passionate about local politics and while Westminster is very distant, Sheffield Town Hall is very close. We can make a big difference to people's lives right here in Gleadless Valley, and across the city.
I see change coming from the ground up rather than the top down. By changing the way we do things here, we can change things in the city, in the country, in the world. That's real Green politics.
I will represent an alternative voice to the singular party line that comes out of the Labour controlled council. I don't have to obey the party leader like the Labour councillors do. I am free to represent the people of Gleadless Valley and I'm honoured to have that opportunity.
I've lived in this ward for almost 20 years. It's my home. I live here, work here and have fun here. I use the parks, shops, cafes and pubs. I've grown my life here with my family. We had our children here at home in Meersbrook. My daughter goes to school here at our local primary school. My life is this area and this area is part of us.
I grew up in a single parent family on a Northern council estate in a safe Labour seat. I understand what it feels like to be ignored by politicians who take people and their votes for granted. I understand the plight of those who need the help of organised communities and trustworthy politicians the most.
I feel compelled to stand for election, not because I want a career in politics (I wouldn't be in the Green Party if I wanted that) but because I can't resist standing up to the current administration. Like many people in Sheffield I am angered by the way the local council operates: entitlement to rule, sham consultations, a relentless desire to accommodate big business at the expense of Sheffielders, the lip service to democracy and the environment. Their hypocrisy never ceases to amaze me.
I want to stand for what matters; to be the voice of the people, not the voice of the leader of the council. I will stand up for Green politics; having decisions made as locally as possible, genuinely protecting our environment and fighting for our future.
There is so much to do in this ward and there are many good people trying to make the place even better than it is. I feel my ability to bring people together to achieve a common goal will give these local voices a chance to be at the forefront of local politics.