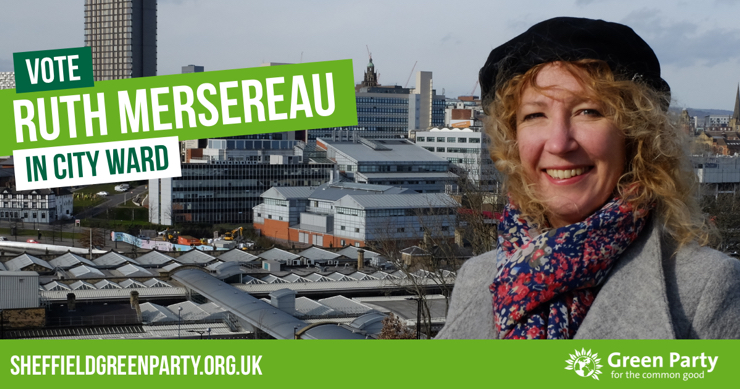 Ruth Mersereau is the Green candidate for City ward May 6th 2021
City ward is a fantastic area, with a thriving arts and music scene, interesting heritage buildings and
museums, and great restaurants, bars and nightlife.
However, it could be even better with, for example, more green spaces, cleaner air, cleaner streets,
protected historic buildings and thoughtful planning.
There's a lot to be done to improve the cleanliness of the city centre, making sure the Council/Amey
are properly meeting their obligations to keep the streets clean and bins emptied regularly.
I've been campaigning for healthier air quality, better maintained roads, joined-up cycle routes and
improved public transport.
There is a very visible problem with rough sleeping, homelessness and begging in Sheffield, and
although there are a lot of great organisations doing good work, more still needs to be done – this
issue should be a bigger priority for the Council.
I have been active in the local community, attending residents' groups across the ward, in Kelham
Island, the City Centre and Shoreham Street. I've been really inspired by the work of these
community groups, and I want to continue listening to and supporting residents in improving their
lives and neighbourhoods. I'd love to have the opportunity to make a positive difference.
I want to be elected to join the fantastic existing Green Party councillors in Sheffield in their work in
helping residents and calling for changes that would really make a difference, such as: helping
Universal Credit claimants, helping young care leavers with council tax, calling for an end to private
profit in the NHS, transparency in council PFI contracts and making our streets cleaner and safer for
children and adults.
As a Green Party councillor I would be able to freely represent views of City Ward residents, and
hold the Labour Council to account. Green councillors really make a difference.
If you have any questions you can contact me at:
ruth.mersereau@sheffieldgreenparty.org.uk
https://twitter.com/RuthMersereau
Phone: 07583 588934
Follow City Ward on Facebook
Follow Sheffield Green Party on Twitter
Follow Sheffield Green Party on Facebook