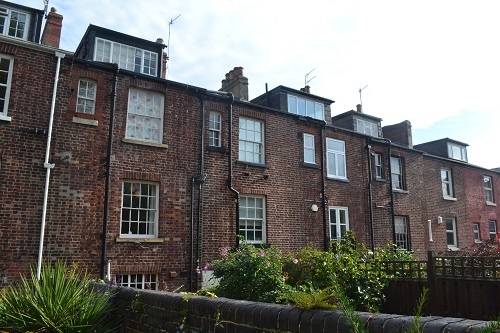 Green party Councillor Douglas Johnson and local party member Brian Holmshaw were active at the 16th October Planning Committee in support of residents of Gell St, who were concerned about the damage to local heritage.
13 residents in the row of ten houses objected to the creation of a "contemporary" one-storey extension at the back of an early nineteenth-century Georgian terrace. The terrace was built by the Flockton family and was designed without offshot kitchens.
Said Brian Holmshaw,
"I have a lot of sympathy for the applicant – everyone needs space to live and breathe – but this is a unique set of townhouses within the Hanover Conservation Area and the look and design of them is crucial. They were never intended to have extensions at the back."
The Gell Street terrace is described in the Hanover Conservation Area plan as "possibly the oldest terrace" in the conservation area and recent research by Gell Street residents might make it the oldest brick terrace in central Sheffield, dating back to 1806. They showed it was not only built by Thomas Flockton but was actually in their ownership some years before his son set up the very first Flockton firm of architects in 1833.
The planning committee voted through the planning application unchanged and refused residents requests to take the new information into account, to ask for a heritage report on the terrace, to change the look of the extension to a more sympathetic one or even to visit the site to see for themselves.
Instead the Chair of the Planning and Highways Committee praised the modernist design and assumed that the houses had no original features, including the claim that she was "sure they have not got 200-year-old window frames." One resident was incensed by this as her Gell Street house does have 200-year-old sash window frames and many other original features.
The decision came soon after another decision to grant a modernist extension to a nearby listed building on Glossop Road in the same conservation area
Brian Holmshaw said this was a sad and blatant attempt to downgrade the heritage of the conservation area.
"Many councillors on the Planning Committee have a mindset that says that any development is good at any cost. Residents' views mean nothing when faced with this but we will keep supporting them, putting forward the value of heritage and protecting historic buildings and attractive conservation areas throughout the city."
Councillor Rob Murphy, the only Green Party councillor on the Planning Committee, was also the only councillor to vote against the extension plans.