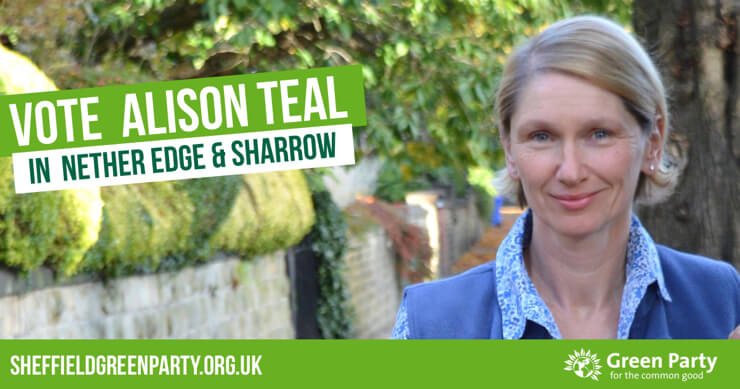 Alison Teal is the Green Party candidate for Nether Edge and Sharrow Ward in the local elections on May 3rd 2018.
"The night of the count in May 2016, when I got elected, was so tense. I was elected by eight votes. So when anyone tells me their vote makes no difference, I can tell them, first hand, how much it matters !
"As a Green Councillor for Nether Edge & Sharrow, I've stood beside residents on their streets during one of their most distressing times in recent history. People who've lived on tree lined streets for 50 years and children who love the tree outside their home ask me to stop the destruction of 'their' trees. I've done everything but climb those trees to protect them. And if I could, I would.
"The best thing about being Green is summed up by the saying, "Think global, act local." That's what I do. I support our community by getting to know as many local organisations as possible, and asking them, "how can I help?" I don't just go to meetings and listen. I get involved. Recently I've been weeding and planting in a local pocket park, helping clean up Common Ground, litter picks, supporting Tenants & Residents Associations, helping to organise a Play Street, and working towards reducing anti-social behaviour.
"I work hard to do a good job, so being a councillor takes up all of my time. There's an endless stream of case work, and the needs of the tree protection campaign have been relentless too.
"I'd like to continue to represent residents in Nether Edge & Sharrow but it's going to be a close race between Greens and Labour. Every vote matters!"
If you have any questions please contact me at alison.teal@sheffieldgreenparty.org.uk
Follow me on Twitter
Follow Nether Edge & Sharrow Greens on Facebook
Follow Sheffield Green Party on Twitter
Follow Sheffield Green Party on Facebook
Help re-elect Alison by supporting our crowdfunder.