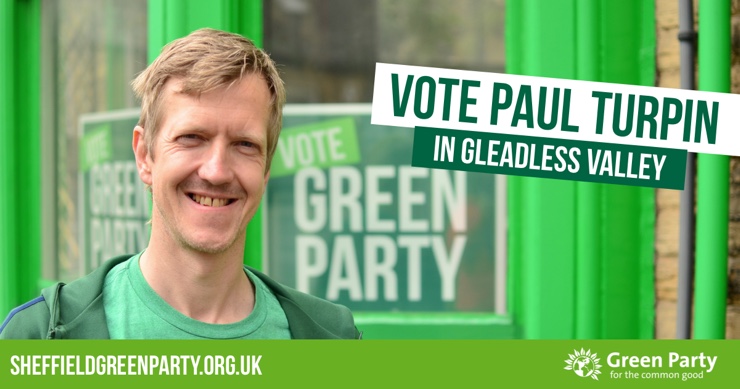 Paul Turpin is the Green Party candidate for Gleadless Valley Ward in the local elections on May 3rd 2018.
I am delighted and honoured to be selected to represent the Green Party in this year's local election. I will be standing in Gleadless Valley, the ward that I have called home for nearly 20 years. I'm a self-employed electrician. I am married with two lovely children. It is since having children, I have become even more aware of the problems facing our future, and found The Green Party offered the most positive vision.
I feel compelled to stand because I can't stand by and watch Sheffield Labour act in a way that would make Thatcher smile. I grew up in a single parent family on a northern council estate and understand how these communities are forgotten when politicians turn a blind eye. Over recent years Sheffield Labour have shown a complete disregard for the public on a number of issues. Most recently, they have wasted taxpayers' money by agreeing to pay £2.2 billion to Amey for street services which we will have to pay for over 35 years; 15 years after the contract ends. They have also shown disdain towards the thousands of local people who are simply calling for a compromise on the tree felling programme, not to mention a clumsy attempt to hand over our Central Library to a Chinese billionaire who is being pursued by several governments for mass fraud. The local Labour council no longer speaks for its people and it is time to challenge this.
I believe positive changes that benefit all people can be achieved if parties work together rather than close ranks. I hope to get local councillors from all parties working together on shared values for the common good. In the course of my self-employment and my work with Sheffield Green Party, I speak with many local people across Gleadless Valley Ward and indeed the whole city, and am aware of their issues and concerns.
In 2016, over a quarter of voters voted Green in Gleadless Valley Ward and we were the clear alternative to Labour. Green councillors, when elected, work extremely hard for their constituents, and that's what I will do. Not being a member of the ruling group, I will truly speak up for the ward, rather than toe the party line.
The Green Party have been campaigning for better air quality since 2011; we have supported the community campaigns to retain healthy trees, both here in Meersbrook and Heeley, and across Sheffield; currently, we are trying to end evictions from council properties due to inability to pay water rates, campaigning to keep the Minor Injuries Unit at The Hallamshire Hospital open, and challenging the cuts to mental and social care being imposed by Sheffield Labour.
I would count it an honour if the voters of Gleadless Valley Ward were to elect me as councillor, and I would work hard to represent the views and address the needs of residents in the ward rather than follow the Town Hall whip.
I can't tell anyone how to vote. But I hope residents of Gleadless Valley Ward will recognise the value of electing a hard-working councillor who isn't bound by allegiance to the ruling group. Please consider voting Green in May.
If you have any questions please contact me at paul.turpin@sheffieldgreenparty.org.uk
Follow Gleadless Valley Greens on Facebook
Follow Sheffield Green Party on Twitter
Follow Sheffield Green Party on Facebook