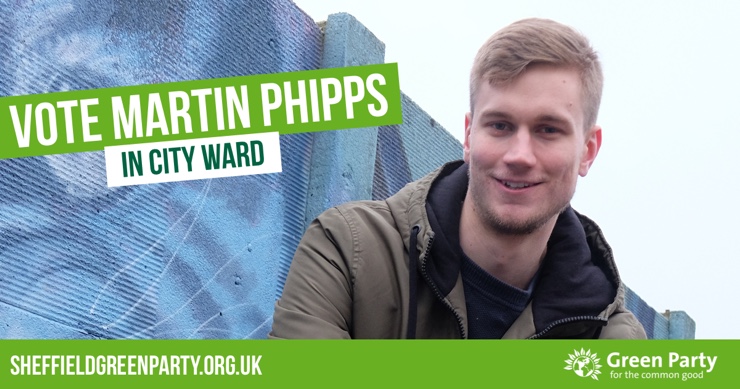 Martin Phipps is the Green Party candidate for City Ward in the local elections on May 3rd 2018.
"I feel really privileged to be selected by the Sheffield Green Party as the candidate for City ward.
I live and work in the city centre, and love living here.
I am active in the local community and attend community groups across the city centre, from Kelham Island to Shoreham Street, listening to people and seeing how the Green Party can help.
I am passionate about fighting for a safe city centre with clean air, accessible local healthcare, joined together cycling routes and better public transport.
I have campaigned against the Inner Ring Road road widening scheme, set to take place in an already polluted area, and have called for the council to instead prioritise public transport and cycling infrastructure improvements. I have also been in active in calling for the Minor Injuries Unit to remain at the Royal Hallamshire Hospital and to keep the NHS Broad Lane Walk-In Centre open, which has 60,000 visits a year.
Unlike Labour, as a Green Party councillor I would be free to vote to represent resident's views.
I want to be elected to help the brilliant current Green Party councillors in Sheffield in their work in helping residents, holding the council to account, and calling for changes in council that would really make a difference, such as: protecting tenants on low incomes, helping young care leavers with council tax, calling for an end to private profit in the NHS, transparency in council PFI contracts and making our streets cleaner and safer for children and adults."
If you have any questions you can contact me at martin.phipps@sheffieldgreenparty.org.uk
Follow me on Twitter
Follow City Ward on Facebook
Follow Sheffield Green Party on Twitter
Follow Sheffield Green Party on Facebook