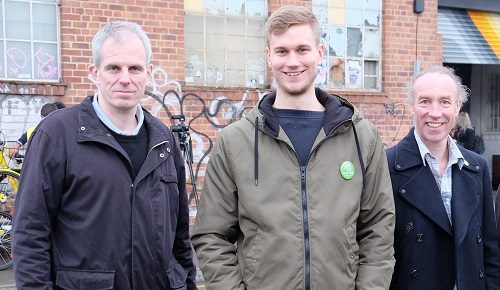 Like everyone in Sheffield Green Party, Martin Phipps, Douglas Johnson and Rob Murphy worked and campaigned in the full year up to the May 3rd local and mayoral elections.
Across the city, we have spoken to thousands of residents on the street, on the doorstep, and over the phone. It has been a great experience to connect with so many people and now, to have received their vote. We really appreciate it and will never take support for granted.
We want to thank everyone in City Ward for the welcome reception on the doorstep and for choosing a progressive green vote. And we also want to thank everyone who voted for Rob Murphy for South Yorkshire regional mayor.
Martin Phipps is the new Green Party councillor for City Ward, joining existing councillors Rob Murphy and Douglas Johnson
We ran as candidates to stand up for residents. We believe that local communities are best placed to understand their own needs. As Greens, we don't tell residents what's best for them: we ask them what they want, and try and help them achieve it.
We will fight for a more accountable council, a more democratic council, where councillors stand up for residents and do not toe a party line. We have already been calling for an overhaul of Labour's "strong leader" model of running the Council.
Thank you all for your support and don't hesitate to get in touch with us:
Douglas Johnson         douglas.johnson@councillor.sheffield.gov.uk           07500 766 189
Martin Phipps              martin.phipps@councillor.sheffield.gov.uk    07581 364 252
Rob Murphy                robert.murphy@sheffield.gov.uk       07875 015 354