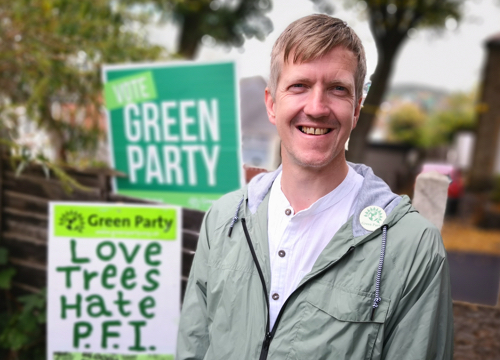 It's been six months since my last blog and a lot has happened, so I thought I'd better get on with updating you on what I've been up to!
It's been a difficult time for pretty much everyone during lockdown, with changes to the rules so frequent we have all had trouble keeping up to date. It has been common for people asking me in the street what we are supposed to do and too often I have had to shrug my shoulders and admit that I am just as confused as they are!
The struggle with mental health has been experienced across the board, with nobody immune from the pressures of lockdown. The anxiety and fear of the virus compounded by the isolation we have all had to endure, unable to see our friends and loved ones. There have also been rising cases of domestic abuse. Existing systems are straining under the weight. We must remember that everyone is in the same boat and those working to help others are just as vulnerable to the stresses of lockdown as those they are trying to help.
I think one of the worst things right now is that there seems to be no end in sight, and after six months of lockdown we appear to be in no better position than we were in February. I lay significant blame at the feet of the government. We have an incompetent and ideologically far right government and it is of great concern that they are in charge in this most dire of situations.
On a more positive note there is hope the future will be brighter than the past. We have seen that some things are more important than more money and more possessions. Like family, home and quality of life. Simple things like walking around your neighbourhood are uplifting and the many mutual aid groups that have set up have brought neighbours together, often when they have never spoken before. These new connections people have made with their surroundings, nature and community will last longer than the lockdown. We must focus on what is good and try our best to do more of that, especially now our energy and patience is waning.
I have been very busy in my role as a councillor throughout lockdown. For the councillors who like to sit in the town hall talking in committees, work stopped at the beginning of March, but for those of us who are embedded in our communities, work didn't even slow down. I was helping to make sure everyone was supported and that there was someone doing something everywhere, finding any gaps and making sure they were filled.
I pressed for action to be taken at the Blackstock Road household waste site to deal with traffic and kept the pressure on even after yellow lines were painted. I drew attention to the devastation taking place in care homes and met with the managing director of a local home to discuss their problems. I have been helping constituents with housing problems and homelessness. Particularly difficult given the suspension of several council departments, including the Sheffield Property Shop and the Repairs & Maintenance department. I kept the pressure on to make sure people got the help they needed.
As council meetings slowly began to re-emerge from the dark and dusty back rooms, where Labour had been making (bad) decisions, Green councillors tackled the council's huge £16 million subsidy to Sheffield City Trust. Demanding better services for the public and greater transparency of how the money was being spent. I defended jobs in Sheffield, highlighted the money being sent to subsidise venues in North Yorkshire and I continue to hold the establishment to account.
Green councillors demanded greater democratic accountability from the Labour administration when they reneged on an agreement to reinstate motions at council meetings. They want to stifle debate and remove opposition ideas. Ideas that are vital to a strong and credible democracy, attempting to block any suggestion of there being an alternate way to their own.
I have been pushing for better school dinners and making sure that the provider of them is held to account, despite an eagerness by some council officers to defend them. Something I will not give up on!
I also had the honour of appearing in the Green Party political broadcast in October which was broadcast on BBC1 and ITV across the nation. Highlighting the difficulties of workers and how we don't want to go back to how things were before, that they weren't so great, and better is possible.
All in all, it's been a tough six months but with hard work and determination I feel I have achieved something positive for my constituents and the city of Sheffield. I am still grateful for the opportunity to make a difference and do not take the responsibility lightly. I will keep trying my best and sincerely hope we have a future worth having together.