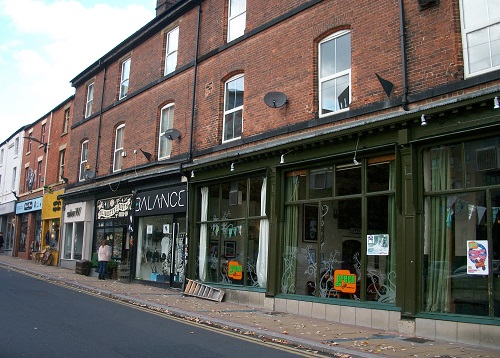 City Ward councillors have made clear their opposition to the loss of shops on Devonshire St in the city centre, ahead of a planning committee where councillors are being asked to approve demolition of the current buildings.
As well as losing heritage, the carbon cost of unnecessarily demolishing buildings to then re-construct from afresh is huge and needs to be addressed if the city is serious about the climate emergency.
The councillors' objection reads:
Please accept this as a further comment from the City Ward councillors, opposing the loss of these shops.
We support the objections relating to this proposal.  There is no good reason for demolition of this core piece of Sheffield's heritage, a decent, solid, not-very-flashy building that epitomises so much of the Sheffield that residents, young and old, find attractive.
It was no coincidence that 20,000 people signed a petition against its demolition in 2015.  As a direct result of the council granting planning permission then, the independent shops were pressured to leave, the site looks run down; it is detrimental to the area.
Nevertheless, the answer is not to flatten it and finalise the tragedy of its loss but to revitalise it.  Overlooking the popular Devonshire Green, there is hope for this fine setting if only its Sheffield heritage were respected.  It could be a superb backdrop to those summer afternoons on the grass; it could be the reassuring brickwork to huddle against on wet autumn evenings.
A soulless office block does none of this.
It is quite right that our officers recognise that this proposal goes contrary to the Devonshire Quarter Action Plan and draft City Centre Plan – a plan that makes the bold claim:
"The Council wants to retain the distinct character of this area and will continue to support independent retailers to thrive."
It is significant that the City Centre Plan was drawn up after the 20,000 signatures opposing the demolition of this block, such was the concern about the loss of these unique and quirky premises.  That policy was adopted to address the deficiencies in the previous policy that allowed the 2015 planning permission to be granted so it should carry significant weight if it is to be meaningful.
Planning policy is meant to balance the needs and desires of local people against the demands of property developers.  This is an opportunity for the council to demonstrate that support for its population.
The City Ward Councillors,
Douglas Johnson
Martin Phipps
Ruth Mersereau