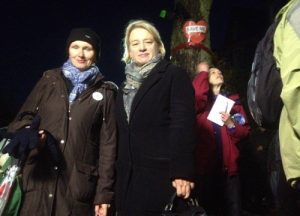 Today the Government's Department for Environment, Food and Rural Affairs (Defra) intervened in the ongoing Sheffield tree felling controversy on the side of anti-felling campaigners and parties. A letter from Environment Secretary Michael Gove called upon the Council to immediately cease its felling programme and begin talks with local residents and campaigners. [1]
Commenting on the development, Natalie Bennett said,
"Sheffield Greens welcome Defra's intervention, and we are delighted that the British government is siding with tree campaigners.
"This latest development highlights how the Council's blinkered and relentless tree felling is a story of national embarrassment for our city. This Labour administration are responsible for Sheffield now being known globally as the city where they cut down trees.
"Contrary to what the Council claim, their disastrous and ill-fated tree felling programme is not supported by residents, does not make Sheffield a greener or safer city, and is completely and utterly unnecessary.
"We hope that this latest intervention from a growing list of backers to the Save Sheffield Trees campaign – including charities, celebrities, journalists and local media, and of course thousands of Sheffield residents – will force the Council to abandon the felling of healthy street trees and get round the negotiation table with campaigners".
Sheffield City Council have since released a statement in response to the letter, in which they falsely claimed multiple 'inaccuracies' in the story, and attempted to shift blame for the situation back onto local residents and onto the government itself. [2] Green Councillor Alison Teal, who along with two other campaigners is currently subject to a court case brought against her by the Council for peacefully protesting against the felling programme, commented on the Council's response,
"In their reply to this demand from the Government to stop the felling, the Council continue to misinform the public. Mr Gove has no more access to the PFI contract than I do, and to suggest that a majority of Sheffield residents are indifferent to the felling programme is nonsense. I receive email complaints almost daily, and thousands of residents have joined the Save Sheffield Trees campaign to object to the fellings.
"Despite the best wishes of a blinded and untrustworthy administration, unscientific survey figures are fooling no-one, and cannot make this serious issue go away. The Council leadership must reappraise their attitude rather than riding roughshod over the community they are elected to serve."
[1] http://www.yorkshirepost.co.uk/news/in-full-read-the-letter-demanding-the-end-of-tree-felling-michael-gove-sent-to-sheffield-council-1-8694481
[2] http://www.thestar.co.uk/our-towns-and-cities/sheffield/exclusive-michael-gove-demands-end-to-sheffield-tree-felling-1-8694453