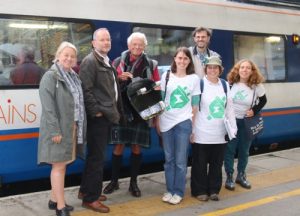 Last Saturday (September 9), environmental campaigners boarded a train in London, carrying a giant electrical plug. They then passed it on at Bedford and the plug continued in a relay all the way to Sheffield.
Local groups all the way along the route called on the Government to reverse the decision made in July to cancel plans to electrify the Midland Mainline beyond Kettering. They asked the Government to 'plug in' their trains to reduce air pollution and carbon emissions.
On the day, both on the trains and at stations, campaigners collected signatures on a petition asking the Government not to go back on their promise to electrify the railways. The petition was created by two national organisations, 10:10 and the Campaign for Better Transport.
After the green plug arrived at Sheffield station there was a rally calling for electrification organised by the Sheffield Climate Alliance, Sheffield Friends of the Earth and Sheffield Green Party.
Beatrice Greenfield, from Sheffield Friends of the Earth said:
"Electrifying the railways would reduce the carbon footprint of travel because electricity generation is rapidly becoming cleaner. Diesel trains also contribute to air pollution, which is estimated to cause 40,000 premature deaths a year in the UK. Switching to electric trains would lead to substantial improvements in air quality in Sheffield, where it contributed to 500 deaths last year.
Natalie Bennett, former leader of the Green Party and Sheffield Green Party member said:
"This decision is a further blow to the North, while the government continues to pour money into transport infrastructure in London and the South East. The Government talk about 'rebalancing the economy' and the 'Northern Powerhouse' rings particularly hollow in the light of this decision, while we are also seeing a failure to invest in essential east-west services that should link Hull and Liverpool and all the points in between. New diesel trains are no way forward – we need the reliability, speed and cleaner option; we need electric trains."
Notes
The 10:10 and Campaign for Better Transport petition is online here: https://secure.1010uk.org/electric-trains-not-diesel-trains
The following groups were involved in the relay: Bedford Green Party, East Midlands Rail Campaign, Northampton Friends of the Earth, Sustainable Harborough, Leicester Friends of the Earth, Transition Town Chesterfield, Sheffield Climate Alliance and Sheffield Green Party.