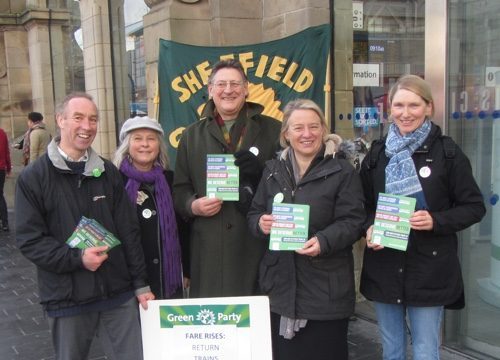 Sheffield Green Party has responded to the East Midlands rail franchise consultation, setting out its vision for how the railway should run.
Key demands at Sheffield station include:
Action on air pollution, including stopping idling of train engines wherever possible and, most importantly, a plan to manage the highly polluted taxi rank
Bus provision right to the station and better public transport information
Good cycling provision
No ticket barriers and unimpeded access through the station
Waste reduction and recycling facilities both on board trains and at the station
Public accessible wireless
Public toilets provided free of charge and 24 hours a day
The response also sets out the Green Party's vision of railways that are publicly owned and controlled.  It calls for electrification of railways, investment in the North to match the South, late night trains and planning ahead for reopening stations like Heeley, Millhouses and Totley Brook.
Douglas Johnson, Green Councillor for City Ward, which includes Sheffield Midland station, said,
"In our response, we are clear that modern railways should be inclusive for all, affordable for all, accessible to all, and minimise harm to the environment, for the health and wellbeing of all."
"We hope our views are taken into account and make the railway a public service right at the heart of society and of Sheffield.
This is not just about faster, more comfortable journeys to London. We want to see investment in rail in the North and station facilities that contribute to the city centre. That's why we want to see free wireless, public toilets, bus and cycle provision and a serious commitment to tackle air pollution around the station."
Notes
The DfT ran the consultation to seek views on the re-franchising of the East Midlands rail contract. This includes the Sheffield to London main line, local lines and the management of Sheffield station. At present, the franchise is held by East Midlands Trains. The new contract will run from 2019.
The consultation documents are available at https://www.gov.uk/government/consultations/future-of-east-midlands-rail-franchise/
Sheffield Green Party's response is available at http://sheffieldgreenparty.org.uk/2017/10/12/rail-consultation/