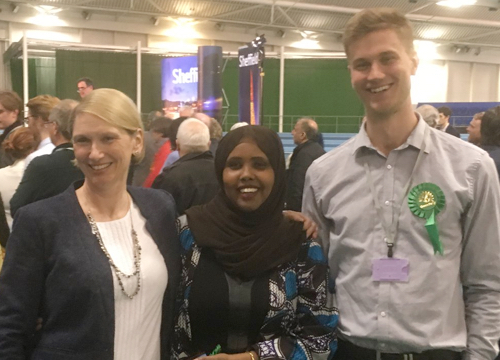 Sheffield Green Party is celebrating after an excellent election result that saw their number of councillors increase by 50% and the re-election of Cllr Alison Teal in Nether Edge and Sharrow ward.
In City Ward, Martin Phipps will join two Green colleagues, Douglas Johnson and Rob Murphy, while in Broomhill and Sharrow Vale, Kaltum Rivers will be joining Magid Magid, who will become Lord Mayor of Sheffield at the annual meeting of the council this month.
Cllr Teal said,
"I want to thank the people of Nether Edge and Sharrow who have come together to protect their community, and who have backed me so strongly in this week's election.
"To go from being elected two years ago by a handful of votes to the 56% share of the vote I received last night, shows how strongly the electors agree with my determination to stand with the tree protectors, their desire to see an open and transparent justice system and demand that the streets be run for communities, not profits."
Cllr Rivers said,
"We campaigned on increasing the level of scrutiny and challenge to the Labour council, and that is what we'll be aiming to do, starting today. It is clear that the undemocratic "strong leader" method of government is unsuited to our aspirations and profoundly undemocratic.
Cllr Phipps said,
"The results of tonight show clearly the level of dissatisfaction with the council – on the privatisation of our street maintenance or the failure to get to grips with our air pollution crisis.
"More Greens on the council means that we'll be able to ask more questions and get more time to represent the people of this great city."