While there are more prosecutions for illegally using Blue Badges for free parking (More people prosecuted for falsely using blue badges in Sheffield) disabled people are now finding it much more difficult, if not impossible, to get one. My Freedom of Information requests show that 3025 people have had their Blue Badge application rejected in Sheffield in the last 32 months. The proportion of rejections has risen from 6% in 2015 to 10% so far this year.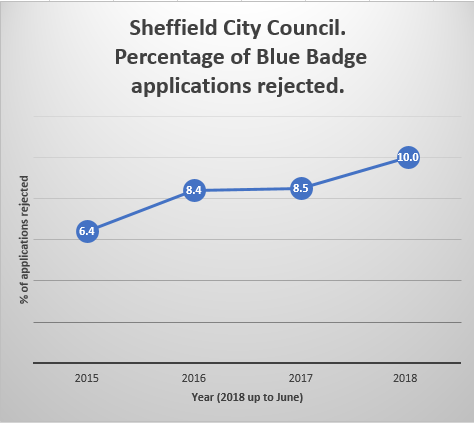 Following a court case, which the Government lost, people with hidden disabilities such as autism may now get a Blue Badge.This is good news. However people with ME (myalgic encephalomyelitis) for instance are unlikely to succeed. This is because ME is not considered to be a permanent disability because approximately 5% of sufferers make a recovery.
ME is a serious, disabling and chronic organic (ie physical not mental) disorder. It has been classified by the World Health Organisation as a neurological illness. Approximately 25pc of those affected go on to develop severe ME which is extremely debilitating, often rendering the sufferer completely dependent upon carers for their everyday needs.
The chance of recovery for long term sufferers is negligible, but they can still be refused a Blue Badge by Sheffield City Council.
The exact cause of ME is uncertain and to date there is no known specific medical diagnostic test to determine or confirm a correct diagnosis nor is there any specific treatment. In the UK it is believed that about 250,000 suffer from the disorder.
Sheffield City Council should change its approach, assist people with ME and make it easier for them and their carers to park in the city.
Graham Wroe
Sheffield Green Party