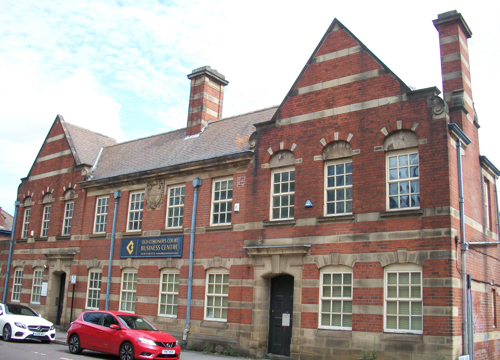 Greens call for council action to protect Castlegate heritage
City Ward Councillor Douglas Johnson is supporting heritage campaigners by calling for an "Article 4 Direction" to protect Castlegate.
The Council is consulting on a possible conservation area around the site of the old Sheffield Castle. This would provide more protection for the interesting heritage buildings in the area.
However, property developers now want to demolish the Old Coroner's Court on Nursery Street before a conservation area comes into force.
Cllr Douglas Johnson said,
"An Article 4 Direction could help by giving some protection until the Conservation Area has been decided. It would mean that developers would have to apply for planning permission if they want to demolish historic buildings. Each case could then be considered on its own merits."
"The Old Coroner's Court is an attractive but unlisted historic building. It would be very sad to see it destroyed for a small commercial gain to a developer. It would also damage the long-term regeneration of the area."
Brian Holmshaw, a key heritage campaigner, said,
"The area around Castlegate, Nursery Street and the Wicker contains some of the oldest, most historically important C19th and early C20th buildings in the city and the consultation about their future status is still ongoing. Sensitive and appropriate re-use is far preferable to the developers' 'level and re-build' approach. The demolition is a cynical move that undermines local democracy and wrecks the hard work that has already gone into creating a Conservation Area here. "
Ben McGarry, chair of Kelham Island Community Alliance, said
"Heritage buildings are a vital part of Kelham Island and the surrounding area. They don't have to be listed buildings to make up an important and unique part of the character of the area.
"The challenge for Kelham Island is to make sure it doesn't lose what is irreplaceable and the same goes for the Old Coroner's Court in its setting opposite Nursery St Pocket Park."
Notes
The Old Coroner's Court was built in 1913 on Nursery St and was designed by Sheffield's first City Architect, F E P Philips. It was later used as a Youth Court and more recently as small office accommodation. It stands opposite the Nursery St Pocket Park, providing a pleasant amenity setting.
Surrey-based Firestone Developments has submitted a "demolition notice" to Sheffield City Council saying it wants to demolish it and clear the land for a block of flats. Developers do not normally need planning permission to demolish buildings.
The Article 4 Direction proposed would require developers to make planning applications to demolish buildings and structures in the proposed Castlegate conservation area.
The draft City Centre plan is at https://www.sheffield.gov.uk/citycentreplan