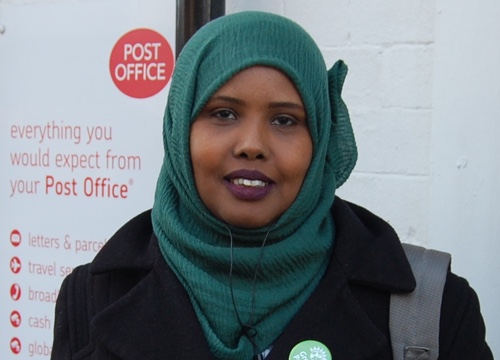 Sheffield Green Party Councillor, Kaltum Rivers, has welcomed the strong support received by a petition calling for the city council to demand greater transparency from developers when making claims about the affordability of housing.
Cllr Rivers said,
"Islington, Greenwich, Lambeth and Bristol councils have already adopted the measure to force 'viability assessments' to be made public.
"Developers cannot be allowed to hide behind claims of 'commercial confidentiality'. Councils, campaigners and residents have to be able to make a judgement on claims about whether or not developers can afford to meet their targets of affordable housing in new developments that the council has set as a condition of granting planning permission.
"But of course the definition of 'affordable' is far from genuinely that. The Green Party wants to work towards ensuring everyone has a genuinely affordable home and to establish a 'living rent' the same way there is 'living wage.' This means no-one is using more than 30% of their take-home income for housing costs."
Cllr Rivers added, "The desperate need for housing in Sheffield is for genuinely affordable housing, in a range of sizes. Ultimately, we need to go back to the council or social landlords building far more homes, and promoting cooperatives, co-housing and community land trusts as alternative housing models, but we need to maximise that supplied by developers now."
Douglas Johnson, Green Councillor for City Ward, commented,
"Property developers make far more profit on luxury flats or executive homes than affordable housing. The crisis is growing as rents and mortgages escalate.
"Far too often, we see developers doing nothing to make housing affordable.
"Even worse is where developers apply to lift planning conditions that require a contribution to the problem. This is why I welcome Michael Miller's petition to highlight the issue of developers playing the system.
"Local authorities need more power, not less, to force developers to contribute to this growing problem. But we also need to examine what is truly "affordable." Many so-called "affordable homes are still out of the reach of many.
"A decent, secure home at a reasonable cost is vital. Failing to provide such homes will cost the country more in poor health, education and productivity."
Notes
 2,569 people signed a petition asking Sheffield Council to require developers to make their "viability assessments" public. Michael Miller, of Nether Edge, will present this to the council's cabinet on 19 th September 2018. It is then expected to be referred to the Scrutiny Committee for debate.
A petition of over 2,500 signatures can require a senior officer to give evidence about the issue at a Scrutiny committee meeting. This is a cross-party panel of councillors and Cllr Kaltum Rivers is a member of it.
The text of Michael Miller's petition is:
Make housing developers be transparent about costs in SheffieldTo: Sheffield CouncilRequire developers to make their viability assessments public if they claim they cannot meet council
targets of affordable housing in new developments.

Why is this important?
Current planning law states that if a developer will make less than 20% profit on a new development, they can ignore a council's regulations about building affordable and social housing.

Leaked documents from several developers have shown that the maths they use to work out their profit margins are purposefully misleading, allowing them to claim they will make less than 20% profit on a development by undervaluing the prices of the houses they will sell and over-costing the labour.

To combat this, Islington, Greenwich, Lambeth and Bristol councils have introduced a policy that forces developers "viability assessments" to be made public.

By bringing these dodgy maths into the public domain, Councils, campaigning groups and individuals will be able to hold developers to account and force them to use more honest maths.