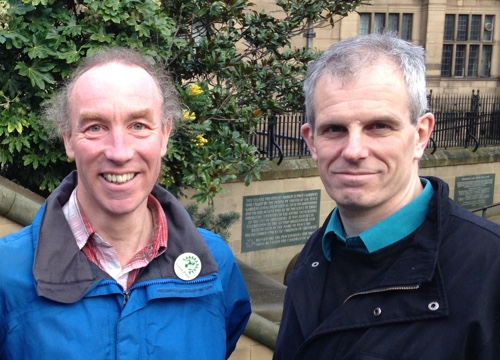 Green Party councillors are urging the regional mayor to take back control of South Yorkshire's buses
The regional mayor has new powers to franchise bus services. Franchising means that bus operators are given set standards to work to instead of the current system where most bus services are run however the bus company wants them to.
Bus franchising gives local authorities more control over routes, fares and service standards.
The call has been placed on the agenda of the full meeting of Sheffield City Council on 7th November 2018.
Cllr Rob Murphy said,
"'Due to warring council leaders, our City Region Mayor doesn't have many powers but improving our buses is one of them.
"We're calling on Dan Jarvis to use these to take back control of our buses and improve journey times for all travellers."
Cllr Douglas Johnson added,
"One reason for delays to bus services is the time taken with passengers having to haggle with the driver over the best ticket price. Introducing sensible, modern, uniform ticketing would help make the buses run on time."
Notes
The text of the Green Party motion is:
Bus franchising
Proposed by Cllr Rob Murphy; seconded by Cllr Douglas Johnson
a. Believes that the Sheffield Bus Partnership has failed on its own terms, noting the loss of patronage of approximately 10%, (5 million passenger journeys per year) since 2012 and a loss of capacity since 2015.
b. Notes the commitments of the Sheffield City Region Mayor in his 2017 manifesto to:
i. use regulatory powers, and eventually franchising, to improve bus services.
ii. consult on re-regulating bus services
c. Notes that control of the bus service is one of the very few actual powers available to South Yorkshire's regional mayor.
d. Notes that the regional mayor has been in post for 6 months but believes the public has seen no progress or action towards bus regulation.
e. Believes a comprehensive, efficient, regular and low-carbon bus service is vital to a successful and sustainable city.
f. Calls on the regional mayor to begin moves towards greater public control of Sheffield's bus network, including an immediate review of current services and public consultation on future provision.