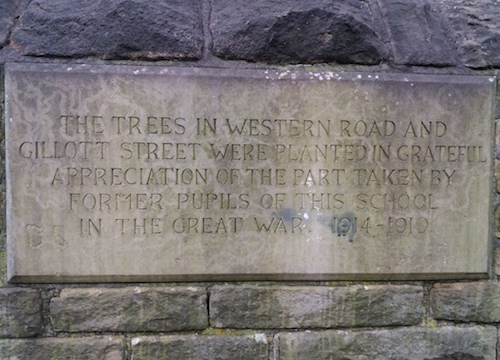 Responding to new information that shows all healthy war memorial trees are to be saved from felling, Alison Teal, Green Party Councillor for Nether Edge and Sharrow ward, said,
"This is a victory for the Western Road tree campaign, and for common sense, in getting Sheffield Council to reverse its decision to fell healthy trees.
"This is a complete U-turn from last December when Council Leader Julie Dore rejected the community's pleas to retain the war memorial trees. At that time, she stated the costs would be around £500,000 so it is pleasing to find that the vast majority of trees on this street can now be saved at no extra cost to the council.
"It is a pity that so much time and money had to be spent on this issue by the campaigners, by the Independent Tree Panel, by the Scrutiny committee and its working group, to get to the point where Amey just has to carry out ordinary street repairs.
"Of course, if the Western Rd trees can be retained, there is absolutely no reason why hundreds of other, equally healthy trees should not be saved too. Once again, we see the Labour Administration determined to play politics with our environment.
"Campaigners have been calling for a sustainable tree management strategy for years now. Other councils successfully manage their urban trees responsibly – why can't Sheffield?"
Campaigners for the Western Road trees include 83-year-old ex-serviceman Roy Millington, who has become a familiar sight on the Town Hall steps in his campaign for the trees to be maintained as a fitting memorial.
Cllr Rob Murphy, Speaker for the Sheffield Green and member of the Western Rd Working Group, added,
"This new information directly contradicts what was said during the scrutiny process and in the December 2017 Cabinet report. Questions need to be answered about the statements given by officers at that time. Since then, the contract target for felling 17,500 street trees has been revealed to the public."
Notes
The trees on Western Rd were originally planted as memorials to commemorate the boys of the adjacent school who had died in the First World War. Other war memorial trees were planted on Tay St and Oxford St (to commemorate boys from Crookesmoor School) and on Binfield Rd.
Sheffield City Council originally proposed to fell 23 of these trees under its Streets Ahead private finance programme. Of these, 20 were agreed to be healthy mature trees.
The Council rejected all the Independent Tree Panel's recommendations to keep certain trees.
Cabinet on 13th December 2017 received a report from the Scrutiny committee's working group on War Memorial trees but decided to continue with the fellings, with Cllr Julie Dore saying, "it will cost around £500,000 of work to carry out engineering solutions."
The new information show proposal to save the 20 healthy trees using the engineering solutions specified in the Streets Ahead contract. The proposals consist of tarmacking around 16 trees and enlarging some of the tree pits. These solutions are within the contract and therefore come at no extra cost to the council. For four trees, the plan is to construct build-outs into the street, which does require additional spending.