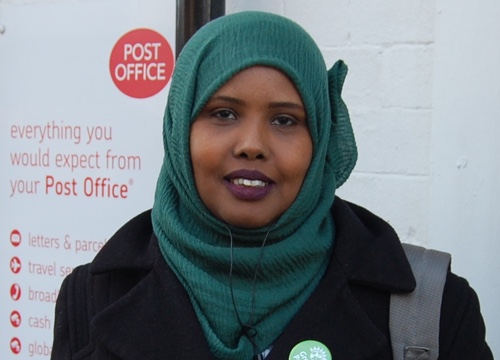 Why were all the student housing areas not included in the first phase of the brown bins roll out before the academic year began? The October changeover in many areas created extra confusion and street mess in hot spots like the streets off Ecclesall Rd adjacent to the General Cemetery. I have had to ask Veolia to "decontaminate" bins with the wrong contents across the whole of these areas in my ward and remove the blue boxes which are just sitting on the street attracting various contents.
This changeover has created a lot of work but credit is due to James Merryclough, Sustainability & Communications Manager at the University Of Sheffield. James has worked with the council and Veolia to supply large bin stickers to help students understand the new system. House number stickers have also been supplied – the wonderful community groups Harcourt Community Action, Moor Oaks Triangle and Botanical Gate Community Association are numbering all student house bins in the areas they cover.
James is also constantly working with all stakeholders to improve the red bag scheme and minimise the impact of the mass student departure each June. This year "Donate Don't Waste" saw 58 tonnes recycled, valued at £101,654, with another 35 tonnes recycled via council and university banks. The period from late June to mid July will always be difficult for communities with large student populations but significant progress has been made over the last few years.
Another request I have made to Veolia is to change green bin collections so they start at the beginning of March and finish at the end of November. The last collections for most people who pay for this service were in October this year. There are clear additional benefits in reducing the impact on other council services if green bin collections cover the increasingly unpredictable start of the growing season to the end of significant leaf fall. It will also reduce the need to put green waste into black bins and increase recycling rates.
Cllr Kaltum Rivers
Green Party, Broomhill & Sharrow Vale ward