Did you know? Just 10 Labour councillors in the Council Cabinet make all the big Council decisions?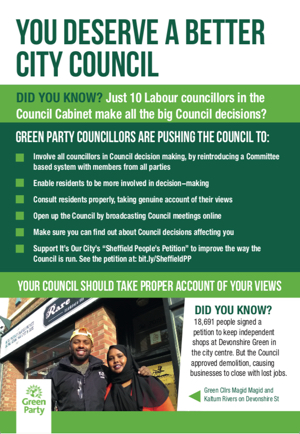 Green Party councillors are pushing the Council to:
Involve all councillors in Council decision making, by reintroducing a Committee based system with members from all parties
Enable residents to be more involved in decision-making Consult residents properly, taking genuine account of their views Open up the Council by broadcasting Council meetings online Make sure you can find out about Council decisions affecting you
Support It's Our City's "Sheffield People's Petition" to improve the way the Council is run.
Your Council should take proper account of your views