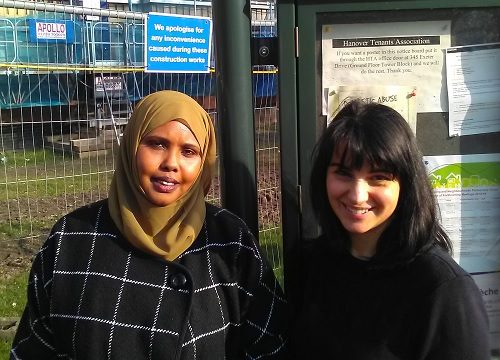 The call comes in a motion to April's Full Council meeting almost two years after the Grenfell Tower disaster. Council tenants in Hanover Tower in Broomhall have still not had their homes fully restored – and many private renters are still left in limbo.
Cllr Rob Murphy, Green Councillor for City Ward, said,
 "We now know that, despite concerns raised about fire safety at the time the cladding was installed in 2012, someone authorised a switch from the original, aluminium cladding on Hanover Tower to a flammable version.  The council has confirmed it has not sought to recover any money from the contractor but has refused to say who it thinks is at fault. The investigation is still 'ongoing'."
Cllr Kaltum Rivers, of Broomhill and Sharrow Vale Ward, said,
 "Residents tell me they are worried about fire in the flats but also about the cold after the cladding was removed. When one resident complained of damp, she was told it was because of her "lifestyle choice" because of condensation."
Notes
In written answers on 4th October 2017, Cllr Jayne Dunn stated that the cost of removal and reinstatement would be £425,000. However, on 5th December 2018, Cllr Jim Steinke admitted the total cost of removal and reinstatement work is £3,920,000.
Sheffield Green Party's motion says:
Motion on fire safety work
Proposed by Cllr Rob Murphy; Seconded by Cllr Kaltum Rivers
That this Council
a) Notes that re-cladding work on Hanover Tower is still not complete.
b) Is pleased that residents will soon have safe cladding and restored insulation to keep their homes warm and fuel bills down
c) Notes that one firm of private contractors was paid to put the cladding up in the first place, then paid again to take it down, then paid a third time to put the right cladding up;
d) Notes that the cost of the removal and reinstatement of cladding is costing council tenants across the city (through the Housing Revenue Account) almost £4m, after councillors were originally informed the cost would be a tenth of that amount.
e) Notes that the council's investigation into who signed off the original, defective cladding is still ongoing, nearly two years after the Grenfell Tower disaster, with no answers as to who was responsible.
f) Believes that other residents in private sector high-rise housing across the city may remain in buildings with flammable cladding that has been signed off by building inspectors at some point and that their situations remain unresolved;
g) Notes that the council has the information as to which buildings are at risk but has declined to release it;
h) Therefore, calls on the Administration to ensure residents have accurate and up-to-date information about the safety of their homes; and
i) Resolves to write to the Secretary of State for Housing, Communities and Local Government to call on the Government to fund replacement cladding which is a product of a failed building regulation system.