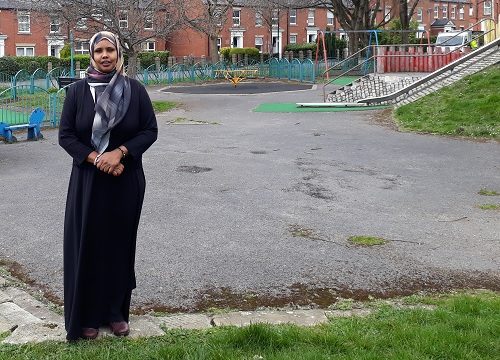 Cllr Kaltum Rivers comments on improvement work to Upper Hanover Playground.
"I am pleased to see some cleaning up of the overgrown area near Hanover Playground, to root out drug users who spoil the area.
 "Upper Hanover playground is just across from houses occupied by families of very young children, the pub and sheltered homes for the elderly. Over the years, this playground and the adjacent area has been used by drug users and drug dealers, who leave discarded needles and other paraphernalia scattered around an area wholly accessible to the public and – most concerningly – to children. 
 "This illicit activity has resulted in a reduction in use of the park by local families and residents. So that they could start to use it again, I was keen for the council and Amey to open up and clean the space and to repair damaged fencing.
 "The decision to remove the overgrown hedgerow was reached only after consultation with the council's ecology team who undertook a survey to ensure that wildlife was not put at risk.  This also meant that the work had to be done quickly before the nesting season.
"The work to remove the hedgerow will open the space to wider views. The adjacent verge is to be seeded with wildflowers to encourage insects and other wildlife and to present a more attractive space for users of the park and drivers passing on the Hanover Way.
 "This vibrant community includes students whose academic years have been affected by criminal activities on their doorstep. I have received many complaints and discussed the issues with South Yorkshire Police, Sheffield City council and Amey. I held many community walks to gather information with our local PCSO and I had conversations with concerned parents, teachers, local shops and volunteers, who wanted this community supported.
 "I hope this work now goes some way to address the needs for improvement in Broomhall."
Notes
The council's press release is available at https://sheffieldnewsroom.co.uk/news/hanoverwayverge/
More information about Sheffield Green Party is available at: www.sheffieldgreenparty.org.uk