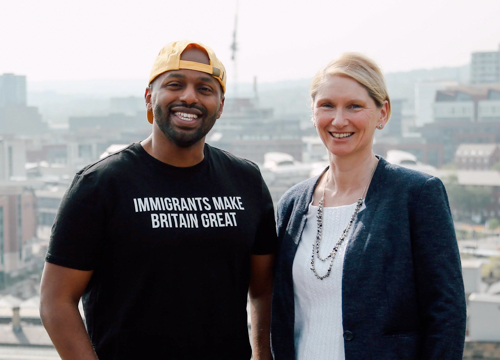 Outgoing Sheffield Lord Mayor Magid Magid has been selected in a ballot of all Green Party members in the Yorkshire and Humber to be the lead candidate for the European elections on May 23rd.
The second candidate on the list is Councillor Alison Teal, known across the region for her brave work in supporting the Sheffield tree campaigns, which included being arrested and seeing the Labour council attempt to put her in jail for her peaceful political activities.
The third list candidate is Cllr Andrew Cooper from Kirklees, who already works regularly in Brussels as a member of the European Committee of the Regions, known for his work on introducing Locally Determined Contributions into the Paris climate process.
Magid said:
"I am so excited and truly honoured to have been chosen as the lead candidate. Politics must change and if there's anything we've learnt in this current political climate is that, we must have the courage to do politics differently – people don't want more of the same and the Green Party can deliver that change for Yorkshire and Humber, having so narrowly missed out on a European seat last time.
"Remaining in Europe is crucial to us all, but particularly young people. They should have the right to freely move across 27 other European countries, to study, to work, to fall in love, to experience life and have their lives enriched by people from other EU countries working in their schools, colleges and universities and living in our communities.
"As a loud and proud working-class black Muslim refugee millennial, I know I may not be the usual politician, I get that. But our region deserves a representative who will boldly act on the issues that matter to us such as climate emergency and tackle the poverty, inequality and discrimination sadly rife in our communities.
"This is an exciting opportunity. We have a real chance to change the status quo and improve our lives. As Lord Mayor, I've been able to engage people and spaces other politicians haven't been able to reach, while being an authentic ambassador for our region around the UK and the rest of Europe. I will shake things up, stand up to hate and champion a vision of hope".
Alison said:
"In Yorkshire and Humberside we are known for speaking our mind, and the same values of truth, transparency and openness attracted me to join the Greens. We also share the values of social justice and equality. We must put communities and the environment ahead of private profit. "By investing in renewable energy, local food production, local businesses and manufacturing, we can create new jobs and strengthen our communities to adapt to Climate Change.
"It is "Austerity"-supporting politicians in Westminster who have increased poverty in our region. The EU has invested heavily in areas of social and economic deprivation, and we need this vital funding to continue.
"I've confronted state and corporate power head-on to stand up for my local community in the Sheffield trees campaign. I will do the same for the residents of Yorkshire and Humberside, who have rightly lost faith in stale old party politics. I am asking people to be bold, choose change, and let us show you what a difference Greens can make."
Other members of the list are: Louise Houghton, a prominent campaigner from South West Yorkshire; Cllr Lars Kramm from York, a lawyer specialising in environmental and European law and a former Green councillor in his native Germany, and Ann Forsaith from Leeds, a former co-chair of the Yorkshire and Humber Green Party.