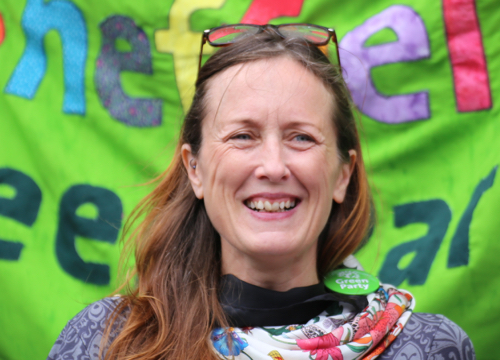 Natalie Thomas has been selected by Sheffield Green Party to stand for Hallam constituency to replace Jared O'Mara as MP.
Speaking after her selection, Natalie said,
"All the world over, we face a climate emergency. The time has come when this needs to be in the forefront of all political decision-making.
"I'm a mother and a grandmother, standing up for all our generations' futures.
"Enough is enough of this chaos. We need clarity and a fair contest. I'm calling for a People's Vote on Brexit. Young people should not have fewer freedoms and opportunities than their parents enjoyed."
"But this starts at home. I will also be a local Hallam MP, acting on everyday issues as well as restoring the link to Parliament."
Natalie has a long-standing commitment to environmental causes and brings this to bear as a mature support worker. She added,
"In the 1990s, I stood on the front line to save our country's landscape against open-cast mines and the road-building programme.
"I now work as a practitioner supporting women to overcome trauma in their lives and helping them move forward. I understand the need for a person-centred approach. When residents of Hallam need it most, I can be a tough, experienced and effective advocate."
Councillor Alison Teal spoke in support of Natalie, saying,
"Natalie is a resourceful, compassionate and intelligent woman who works with disadvantaged groups. She has a strong history of environmental activism and an abiding concern for the health of our planet and the rights and wellbeing of current and future generations.
"Natalie has the skills and calm temperament to be a formidable parliamentary representative for Hallam constituency."