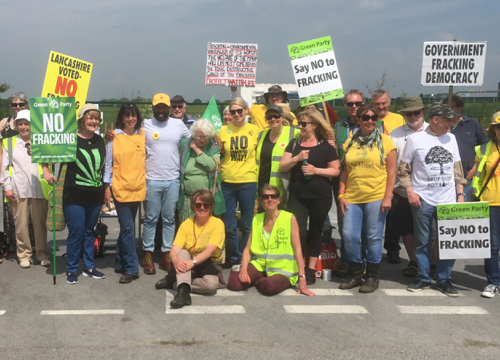 On Friday the Government announced a moratorium on Fracking. While this was welcomed, it was understandably viewed with suspicion by anti-fracking protectors. Was it just an election ploy? Why did they not go straight to a ban on Fracking, like Ireland, Wales and Scotland?
The fracking industries failure to avoid earth tremors is the stated reason for calling a halt to further drilling. There are equally valid reasons the government could have given: contamination of water supplies and soil, destruction of wildlife habitat, the fact that there's a Climate Crisis and we need to leave fossil fuels in the ground, etc. The list is long.
Public opposition has grown against this filthy industry. The increasing policing costs to attempt to control the creative and courageous campaigners keeping watch night and day at the remote sites, coupled with technical difficulties, has made this industry financially inviable.
Over the past few years, I've visited active and planned sites across the north where anti-fracking protectors set up camp, including Kirby Misperton (Third Energy), Preston New Road (Cuadrilla), West Newton (Rathlin), Tinker Lane (IGas), Marsh Lane (INEOS). Some of the fracking companies obtained Injunctions against campaigners in an attempt to prevent peaceful nonviolent direction action (NVDA), however, protectors did not give up.
We had the same challenge in the Sheffield Trees campaign, except it was Sheffield City Council who took us to the High Court. They applied for an injunction to prevent us using NVDA to stop them felling healthy street trees. In the end, their Injunction didn't work either.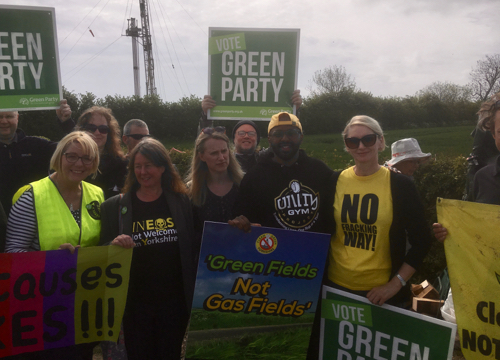 I know from personal experience that people power works. There's a great camaraderie amongst people who put their liberty on the line for something greater than themselves. We only have this one, beautiful blue planet to sustain us. We must respect and nurture the Earth.
As XR call for 'System Change, not Climate Change,' and the Youth Strikes gain momentum, there's a child whose voice of reason has miraculously cut through to the global media with her truth, "I want you to act as if the house is on fire, because it is." Greta Thunberg – World Economic Forum, Davos, 24 January 2019.
Campaigners have stopped fracking, hopefully for good, but we still have so much work to do, and as Greta says, the house is on fire. We need to hurry. Together.