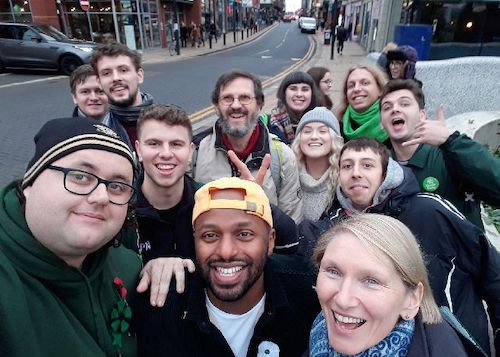 Sheffield Green Party are campaigning strongly to win Sheffield Central in the general election. Candidate Alison Teal is a councillor in Nether Edge & Sharrow ward and was in the front line of the street trees campaign. Alison's commitment to stand up with residents led to arrest and an injunction, with the Council's Labour Administration applying to the High Court to have her jailed before campaigners won a moratorium on tree felling.
Also standing in Sheffield constituencies are Christine Gilligan Kubo (Brightside and Hillsborough), Natalie Thomas (Hallam) and Paul Turpin (Heeley).
Alison Teal was second on the Green Party list of candidates in the European elections when Magid Magid was elected as an MEP for Yorkshire & the Humber in May. Magid comments: "Sheffield Central deserves an MP who is not only grounded in the community but also has a wealth of experience in grassroots campaigning and activism. Alison has shown time and time again that she puts people before anything else. She has a heart of gold and I can't think of anyone more suitable to represent the wonderful people of Sheffield Central than her."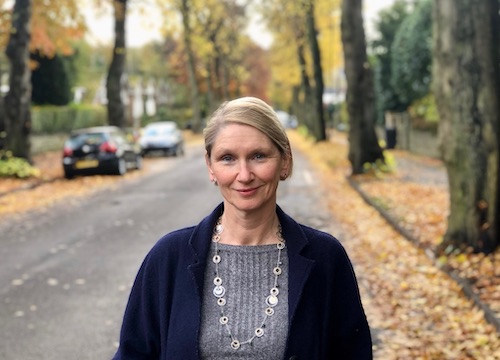 Alison Teal comments: "A lot has changed here since the last general election in 2017. Labour face losing control of the council next May after Greens comfortably beat them in council elections last May in Sheffield Central and across the city in the European elections this May. I can win this seat and join the amazing Green MP Caroline Lucas.
"I live in this constituency with its diverse, vibrant mix of residents and students who are tolerant and inclusive. An overwhelming majority voted Remain and Greens trust the public to have a final say on Brexit in a People's Vote.
"From Abbeydale Rd to Hunter's Bar, across to Hillsborough Corner, we all suffer in traffic jams and air pollution. The Labour-run council "declared" a climate emergency in February but nothing's happened. Greens will put climate crisis action at the heart of all decision-making.
"Greens have always opposed the privatisation of our NHS, schools and council services – like the Streets Ahead Highways PFI deal that Labour and the Lib Dems negotiated. I will work hard to protect a publicly-funded NHS that promotes health and well-being for everyone in the city, wherever they live."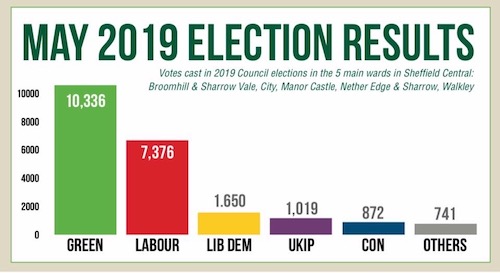 Christine Gilligan Kubo has stood in the last 3 elections in Brightside & Hillsborough. Christine comments: "I'm a lecturer in Responsible and Ethical Business practice and non-executive director of Sheffield Renewables. I will support the rapid transition from fossil fuels to renewable energy, creating new green jobs that make the most of the manufacturing skills in this constituency. It is vitally important that, whatever the outcome of Brexit, workers' rights and environmental protections are maintained."
Natalie Thomas has a long-standing commitment to environmental causes. Natalie comments: "In the 1990s, I stood on the front line to save our country's landscape against open-cast mines and the road-building programme. I want to replace Jared O'Mara and will work hard to restore strong, responsive representation to Hallam constituents, inspired by the work of the brilliant Green MP, Caroline Lucas."
Paul Turpin was elected as the first Green councillor in Gleadless Valley ward with a 919 vote majority. Paul has a reputation as hard-working community leader who holds the Labour-run administration to account. Paul comments: "I'm deeply involved in the Heeley community and will stand up for decisions made as locally as possible, genuinely protecting our environment and fighting for our future."
Notes
Alison Teal feature in the Guardian https://www.theguardian.com/environment/2017/oct/27/sheffield-councillor-cleared-of-breaching-tree-felling-order
Candidate profiles and pictures can be viewed at https://sheffieldgreenparty.org.uk/elections/