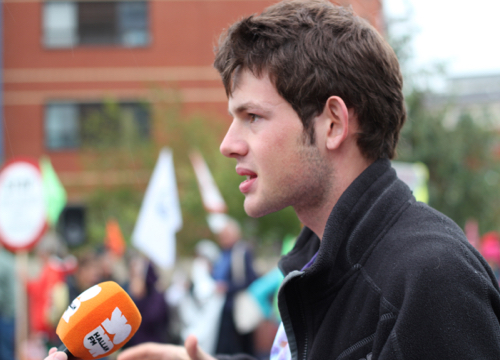 We all aim to be sustainable; we've been moved by shots of animals choked by plastic, we're aware of the ever-increasing frequency of "once in a generation" weather events and our children are all too painfully aware of the air pollution invading their lungs. We all try our best to live without damaging the planet, but even as an environmental activist I admit that it can be tiring and extremely difficult to live sustainably. When our public transport is lacking and expensive, it's all too easy to hop in a car. It is practically impossible to avoid plastic packaging.
Luckily, with my vote, I hope that The Green Party can begin to make changes for us. They are the only party that have consistently worked to tackle the climate crisis, big polluters and ecological breakdown. The Greens have, in one form or another, been empowering people to live more sustainably and pushing for action against the corporations who are big polluters for over forty years.
As an MP, Alison would continue working to empower the people of Sheffield to live sustainably, work that she started in the town hall and at protest sites. Along with Caroline Lucas, she would push for a zero-waste society to tackle plastic pollution. Green MPs would campaign for a Clean Air Act, to reduce clean up our poisonous air by reducing our reliance on private vehicles. Green MPs would push to kickstart tree-planting programmes, replacing so many that were lost in Sheffield.
All of this would be done whilst sticking up for the general public. The Green Party is firmly anti-austerity and pushes for a real living wage. It calls for a ban on zero-hours contracts and a universal basic income to lift people out of poverty. Unlike other parties, it has also been unashamedly pro-European since the start and is in favour of a people's vote, a democratic solution to the current mess that the traditional parties have created in parliament.
In Sheffield Central, we are in the wonderful position where we can vote with our hearts and campaign for ideals. The Conservatives don't stand a chance here, but the Greens do, having received the highest number of votes in the Sheffield Central area in the European and Council Elections in 2019. If you want Green, vote Green and begin the work that is required to give the people of this country the bold alternative that is so desperately needed.
Nathan Strathdee