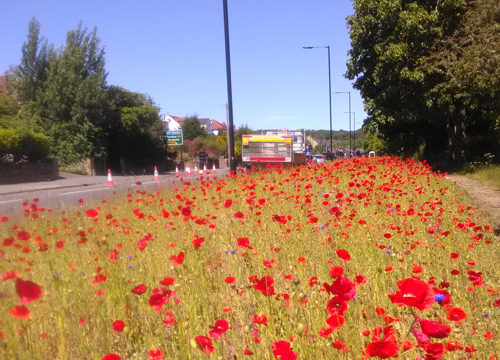 It's good to see Streets Ahead trialling "Living Highway" wildflower verges on Bochum Parkway and on Halifax Road, approaching Grenoside.
Unfortunately, the benefit is offset by widespread verge cutting across Sheffield after a brief gap during the crisis. Meanwhile the council continues to spray 1750 litres of the toxic herbicide Glyphosate annually to kill weeds on pavements, verges and parks.
In February a Green motion asked the council to assess "gradually increasing the number of meadows and where appropriate 'rewilding' land which is currently grass requiring regular maintenance, in order to increase biodiversity and reduce costs and use of chemical pollutants." The "Plantlife" campaign advise that a regular late summer cut and removal of clippings will keep most verges open, safe and thriving with interesting wildlife.
Small scale trials rarely lead to large scale project roll outs by Sheffield Council or their contracted companies. Our motion included a raft of Green climate emergency proposals desperately needed following a year of council inaction.
Greens will keep pushing the government and our council to "Build Back Better" so we can emerge into a safer, healthier, greener world when the Coronavirus crisis can be put behind us. Rewilding verges can play an important role in tackling the climate emergency.
Christine Gilligan Kubo
Hillsborough ward Green Party