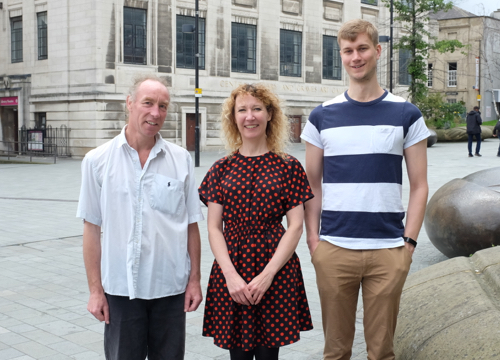 Sheffield Green Party's City ward councillors have objected to the recent Garden St application for more sub-sized accommodation in the City centre.
Cllr Ruth Mersereau said, "We are seeing increasingly frequent applications for very small flats and studios in the city centre. Private developers are seeking to make as much profit as they can at the cost of residents by making flats as small as possible."
"Living in small spaces is bad for people's mental and physical health and made worse by the lack of green space in the city centre."
Cllr Martin Phipps said, "The council needs to do more for City ward residents and does not value them highly enough. There are plans to have more people living in the city centre, as higher density housing has a lower carbon footprint, but not enough thought is given to the conditions it is expected city ward residents should live in. Higher density housing should not mean substandard housing.
If the council truly wants more people to live in the city centre, then it should make it a city centre more people would want to live in. This means not making it a city centre full of undersized flats, but instead respecting the amount of space a person needs, listening to residents' concerns and not retorting with 'what did you expect living in the city centre?'.
Bars and nightclubs have had opening hours allowed to extend practically into daybreak. Applications for longer opening hours have been granted even when they are opposite social housing that predates the venue, has vulnerable people living there and against residents' concerns. Sheffield has a fantastic night life, which city ward residents also enjoy, but opening hours and management must be balanced with residents' needs.
A city centre for people to live in should mean more green spaces, more parks, more cycle lanes, less traffic and less car priority. These things would also make it a city centre more people would want to visit and shop in, as well as a greener one. Many other city centres across Europe are full of great public spaces, parks, pedestrianised roads and less car priority.
If we are serious about more people living in the city centre it's time we reject applications for small housing and start building the city centre we need to see."
The City ward councillors submitted the following objection:
Re planning app for flats at Garden St
Reference 20/01158/FUL | Site Of 52-54 Garden Street Sheffield S1 4BJ
Planning objection
Objection from Martin Phipps on behalf of City Ward cllrs
"The City ward councillors object to this planning application on the following grounds:.
The proposed sizes for the studio flats are significantly below the recommended South Yorkshire Residential Design Guide which suggest 33 square metres for a studio and 46/47 square metres for a one bed flat. One of the studios is only 19.5 square metres, and there are one bedroom flats of only 26.3 square metres, both close to half the recommended size in the guidelines. None of the flats suggested meet the design guide size guidelines.A bedroom and bathroom are expected to fit into a total size room of 10.6 square metres, close to 3 metres by 3 metres.

Living in spaces that are too small has a serious negative impact on people's mental health and wellbeing, which can also affect physical health. High density accommodation is important to tackle climate change but does not and must not come at the sacrifice of health and wellbeing. It's important to note that approving this small size of flats will be used in justification for further small flats, and we must avoid Sheffield city centre becoming a race to the smallest apartments.

Living in small spaces in the city centre is made even worse by the lack of green space, which is important for addressing air pollution and physical and mental health. We note that there is no green space proposed in the development. The application should be changed to include some green space/greenery in the courtyard. This should be publicly accessible,  whilst respecting the privacy of residents, given the overwhelming amount of high-density housing and lack of public facilities in the vicinity.
We also feel it is important that previous conditions set out under grant 17/04202/FUL  – on the complex having 16 suitable bike parking spaces  – are retained and that the green / brown roof system should be maintained. "