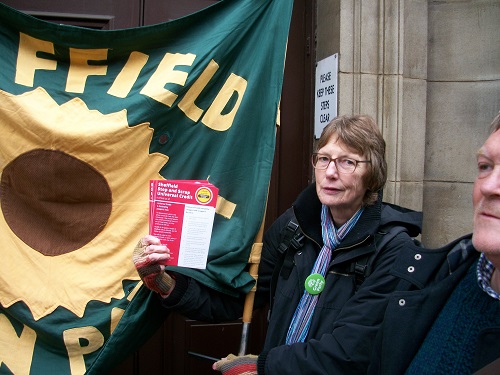 Dear Editor,
The Sheffield Stop and Scrap Universal Credit campaign, which Sheffield Green Party is part of, is calling on the Chancellor to keep the £20 uplift – the increase in Universal Credit brought in at the beginning of the pandemic.  The Government plans to cut this £20 a week on 31 March 2021.
Benefit rates in the UK, for those of working age, are extremely low compared to those in Europe.  The £20 uplift stopped some people falling into the most dire of financial circumstances but it is nowhere near enough to avoid people experiencing significant hardship, with people often being unable to feed their families or pay their bills.
According to the Resolution Foundation, pressing ahead with the £20 cut would see the level of unemployment support fall to its lowest real-terms level since 1990-91 and its lowest ever, relative to average earnings.  The basic level of out-of-work support prior to the March boost was – at £73 a week (£3,800 a year) – less than half the absolute poverty line.  Even if the £20 stays, the level of benefits will not provide enough income to meet basic needs.
Sheffield City Council has reported a fourfold increase in use of foodbanks since the start of the Covid crisis.  Spires Foodbank in Arbourthorne reported a 1000 % increase in demand for food aid in the first lockdown.  The council has now set up a Working Group on Food Poverty.
Sheffield Green Party calls on the Chancellor Rishi Sunak to announce in the budget on 3 March that the £20 uplift will be maintained.  We also want the government to recognise the need to introduce a Universal Basic Income as a long term solution to poverty.  Sheffield City Council has already passed a motion in support of UBI and it has long been Green Party policy.  We must address the injustice of income inequality.
Alexi Dimond,
Gleadless Valley
Sheffield Green Party