The following letter has been submitted for publication by Eamonn Ward, Hillsborough Green Party.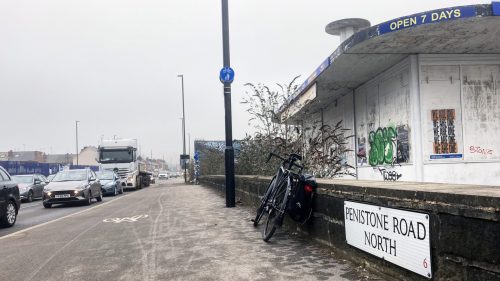 The Upper Don Trail active travel route from the city centre to Stocksbridge offers a future vision of safe, off road, commuter and leisure travel. Led by Simon Ogden, who piloted the creation of the Five Weirs Walk, the project needs developments along the route to allow a 5 metre wide fully segregated walking and cycle path through sites.
On September 7th the council planning committee approved plans for a retail centre, including an Aldi store, on the vacant site opposite Hillsborough football ground. Most committee members appeared to be unaware or uninterested in the vital importance of accommodating the Upper Don Trail. Or the importance of upgrading a section of the notoriously substandard Penistone Road cycleway at the same time.
Simon Ogden raised a number of significant issues in a 5 minute speech, outlining how the project would be critically undermined unless the plans were changed. In response, only Green Cllr Brian Holmshaw asked questions and sought clarifications from planning officers on this aspect of the application.
While responding, the planning officer stated Penistone Road is not considered a Strategic Cycle Route, even though it's on the Council's official cycle map and is part of the National Cycle Network. But, with no right of comment or reply in planning committee meetings, Simon Ogden could not challenge the officer's incorrect assertion.
The decision to approve the plans unchanged means there's no guarantee of a proper cycle route through the site. The opportunity to deliver a high quality active travel route is gradually being eroded due to disinterest from those involved in the planning system in Sheffield.
We're in a climate emergency and it requires new thinking to respond to new challenges coming thick and fast. Not a planning department and planning committee members stuck in the past with a business as usual mindset.