Letter from Noel O'Reilly, Sheffield Green Party to the local press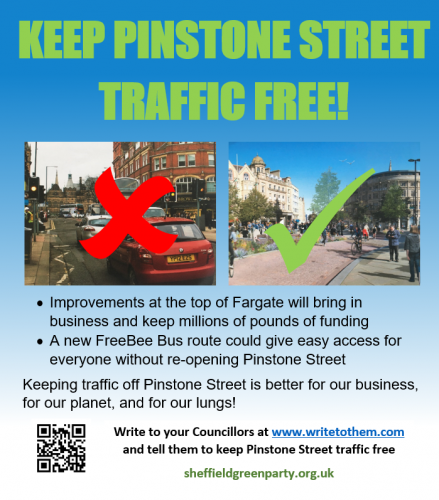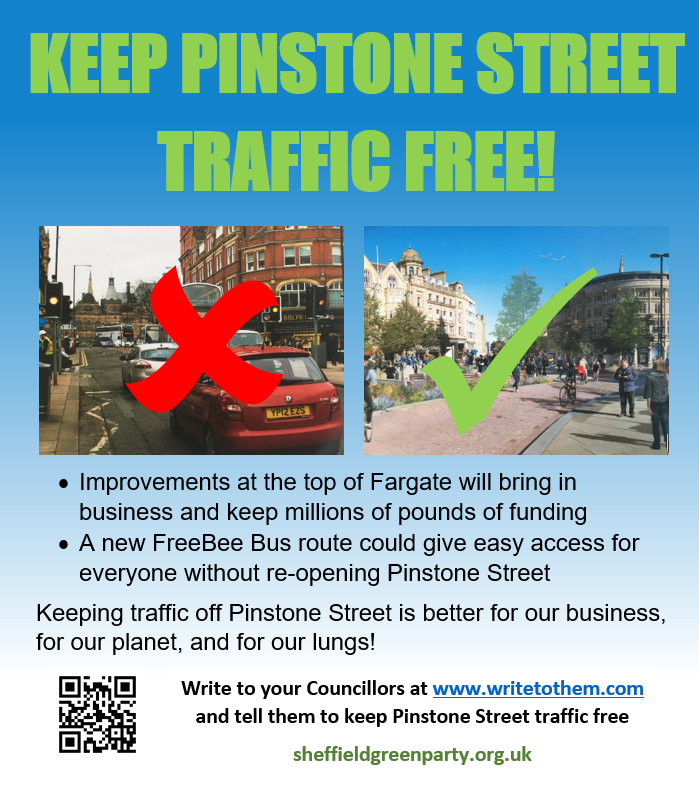 Labour leader of Sheffield Council Terry Fox should reconsider his view, expressed in a "scrutiny meeting" he called in September, that Pinstone and Leopold Streets in the city centre should be reopened to motor traffic. The streets are currently closed due to Covid-19.
Reopening the streets to buses would put at risk a city-wide improvements plan tied to millions of pounds in investment. Not only that, it would greatly undermine the Council's declaration of a climate emergency made in 2019.
Allowing a bus route would require the removal of the existing walking and cycling arrangements. It would also mean abandoning or cutting back the £13m Connecting Sheffield scheme to improve routes for walking, cycling and public transport across the city.
Plans to upgrade Fargate would have to be abandoned and the move would fragment proposals under the cross-city Connecting Sheffield project.
The notion that buses have been slower since the introduction of cycle and pedestrian lanes on the two streets is not backed up by evidence. In fact, a survey shows buses have run faster through the city centre, improving the whole network's reliability.
The evidence from disabled people, for example through the Access Liaison Group, a council-facilitated group that gives disabled people a say on changes that affect them, is that there are lots of problems with access in the city centre. But the group did not recommend reintroducing buses to Pinstone Street. Other access improvements could be made if the Connecting Sheffield scheme goes ahead.
The argument that closing the two streets to traffic is responsible for a downturn in business doesn't hold up, given that Fargate and Pinstone Street had lots of empty shops before the pandemic. The council report shows the city is recovering slightly better from Covid -19 than the UK average.
All in all, Sheffield has the prospect of exciting changes to its urban landscape in the city centre after years of decline, funded by millions of pounds of government money. Let's not throw that away.