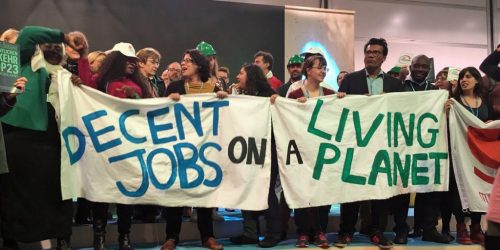 As COP-26 began Sheffield Green Party considered the critical role of Unions in shifting to an environmentally sustainable future. Trades Unions are essential to organising and lobbying on behalf of workers, from baristas to barristers, pushing back against exploitation. Yet the role of trades unions in relation to the climate crisis is less clear, as many represent the interests of workers in carbon heavy industries. Our speakers explored how unions and the Green movement can tackle the climate crisis together.
See the presentation slides here:
SGP Unions and the Climate Crisis Ben Manovitch
SGP Unions and the Climate Crisis Jenny Patient
And the full recording here:
Ben Manovitch spoke on the importance of trade union renewal for a socially just society and why strong unions would help the Green Party. Ben is a solicitor, co-founder of the Bread & Roses Project, and a member of the unions ACORN and UVW.
Jenny Patient spoke about her research on the roles unions can take in tackling the systemic and social roots of climate change. Jenny's research came out of her campaigns work with Sheffield Climate Alliance, and is being put into practice in her current work with TUC in Yorkshire and the Humber.
Mark James spoke about the new Sheffield Green Party Trades Union Group. Mark is a former branch officer of the NUT and Unite and member of the Working Class Studies Association.
If you are interested in joining the SGP Trades Union Group, get in touch with Mark at mdjames30@icloud.com