🌎 Summit 'Centring the Most Affected People and Areas' and Delivering a Clear Justice-Based Call For Action To Global Leaders Following COP26' 🌏
Join us on Saturday 27th November at 10am-4pm at Sheffield Quaker Meeting house for this event by the Sheffield Climate Change Umberalla Group COP-26 Coalition
Speakers include:
– Magid Magid, of Union Of Justice, previously Lord Mayor of Sheffield and Green Party MEP
– Jerome Phelps of the Jubilee Debt Campaign
– a member of the Indigenous Environmental Network
– Mduduzi Tshabalala from XR Vaal, South Africa
– Patrick Wakefield from Youth Strike 4 Climate Sheffield
Global Heating risks the lives of billions, threatening widespread crop failure, migration, and conflict. These effects are being felt right now by people living in countries who have contributed the least to the crisis yet suffer the worst consequences. At the same time these areas face the highest levels of inequality, poverty, debt, and continuous disadvantage from unequal trading systems and neocolonialism.
For tickets go to Sheffield Global Climate Justice Summit – Talks, Workshops, Discussions Tickets, Sat 27 Nov 2021 at 10:00 | Eventbrite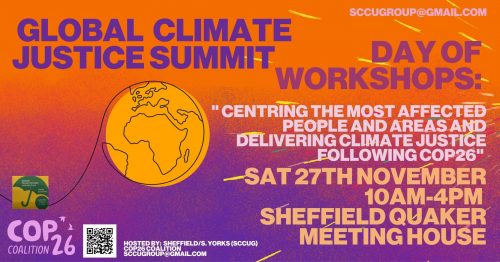 This COP has led us no closer to the 45% emissions reduction needed by 2030 instead emissions will continue to rise. It has not resulted in the MAPA being paid the $100bn annually that should have been met 2 years ago. A future 'dialogue' on Loss and Damage has been agreed, but the losses and damages are mounting up right now, and MAPA are paying for the clear-up operations, by accepting debts to the banks of the nations that have caused the damage. Carbon Trading, Carbon Markets, Nature Based Solutions, have been built in to any actions, and all these do is allow the polluter to carry on polluting while indigenous communities experience land, ocean and forest grabs, and subject to dangerous geoengineering experiments. Meanwhile the polluters continue their investments in oil, gas and coal!
Activists have learnt much over the 2 week period of COP26, we now need to build the global climate Justice movement in Sheffield. This day of workshops will be an early opportunity to begin this discussion with one another.