The following letter by Alexi Dimond, Green Party Councillor for Gleadless Valley,  appeared in the Sheffield Star on 16th February 2022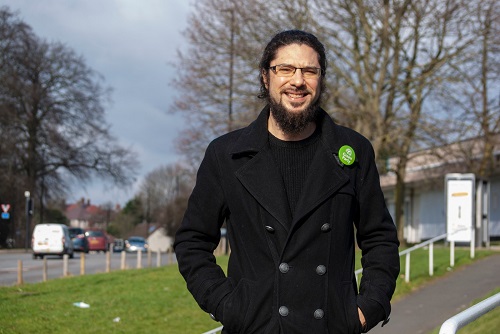 Recent letters by senior Lib Dem Councillors represent playing politics in a climate emergency. This year, the Lib Dems have had the chance to engage constructively with colleagues in a "Rainbow Executive" for the good of the people of Sheffield, to date they have declined. Alas, their strategy appears to be to jump on every bandwagon – no matter how reactionary – see for example their recent public support for Roy "Chubby" Brown whose material includes misogyny, domestic violence, racism and whipping up hatred of asylum seekers.
In his letter of 10/02/2022, "Repeat of Tree Fiasco", Cllr Mohammed equates a public consultation on ideas to give greater priority to buses on Abbeydale Road and Ecclesall Road, with the (then) Labour-run Council's draconian crackdown on residents protecting Sheffield's trees. Putting aside that the Lib Dems helped to secure the street-tree contract and hailed it at the time; drawing this parallel is quite absurd. While trees help to combat climate change, reduce air pollution and increase health and wellbeing; excessive car use does the opposite. There is a wealth of evidence built up over the last 10 years (from Living Streets and Sustrans among others) which show that pedestrianisation, active travel and reliable public transport are far better for local businesses than dangerous, polluted, log-jammed roads.
In Cllr Masters' letter of 08/02/2022, "Green Belt Under Threat", she completely misrepresents Sheffield Green Party's view on the local plan. We take a nuanced view:
·         that the biodiversity of some brownfield sites can be more valuable than greenbelt sites which have been subjected to years of industrial farming
·         that rural communities also need affordable housing
·         and that it will be extremely detrimental to public health and wellbeing, (as well as biodiversity) to develop every inch of brownfield and greenfield land within the city boundaries
A strong local plan can ensure that all developments include good infrastructure, public transport and active travel links. It must also ensure that former industrial sites are developed first; while nature corridors and biodiversity are protected with all residents having access to green spaces.
The Lib Dems at the last Full Council Meeting rightly argued for 15 minute neighbourhoods – where every community has access to employment, recreation, green spaces and other amenities within 15 minutes walking-distance of where they live. Yet, they also seem to believe that everyone in those neighbourhoods must be able to drive from their on-street parking to park outside their local shop. Where's the joined-up thinking to support action on the climate and ecological emergencies?
Alexi Dimond,