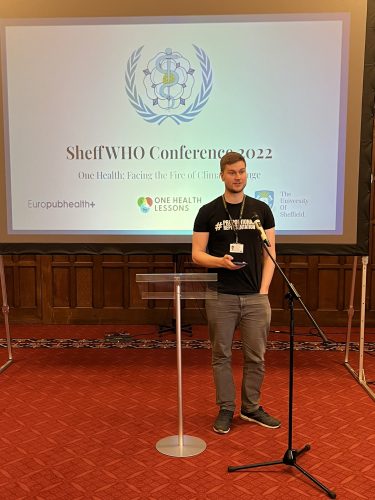 On Sunday March 13th Councillor Martin Phipps gave this speech to the Sheffield World Health Organisation 2022 Conference. 
Thank you for having me today to talk about the climate and linked nature emergency we are in. It's great to see so many people here passionate about addressing it and acting now.

One Health isn't a term I'd actually come across before, but I think it perfectly encapsulates the approach that is needed to address the climate crisis. Much like we have seen in the spread of covid during the pandemic, we are all interlinked. Climate change does not have borders.

In Sheffield we can expect: wetter winters and more intense rainfall, meaning higher flood risks and, due to more surface water, higher and more severe flash flood risk, warmer and drier summers that may affect our food and water supply, as well as damaging buildings and infrastructure, ecosystems and biodiversity to be hugely impacted due to the changing climate and price increases of energy, unless we successfully switch to renewables.

Nationally and regionally we can also expect rising sea levels, with reports suggesting that Doncaster could be on the seaside in 30 years, with significant parts of it underwater, as well as more extreme storms.

Internationally we can expect more drought and famine, with rising sea levels set not to just flood settlements, but whole countries. I'm sure many of you will remember the passionate press conference the Foreign Minister of the pacific island Tuvalu, Simon Kofe, gave to COP 26, standing at a podium in the sea to highlight rising sea levels. We can expect huge numbers of climate refugees, people leaving their homes which have been made no longer habitable.

Between 2030 and 2050 climate change is expected to cause approximately 250,000 additional deaths per year, from malnutrition, diarrhoea and heat stress. The direct damage costs to health is estimated to be between 2 – 4 billion dollars a year by 2030.

Inequality has fueled climate change, in 2019 it was revealed in a report that 20 companies were behind a third of all climate emissions. We know the richest companies and individuals in the world are disproportionately the largest contributors to the climate crisis, with Oxfam estimating that the richest 1% caused double the CO2 emissions of the poorest half of the world from 1990 to 2015. We also know that it is the global south and the poorest countries that are going to be hit the worst by climate change, those with less money and less money in health systems will be the least able to respond to its impacts, as well as geographically being the most impacted by rising temperatures and sea levels.

We cannot address the climate crisis without addressing the inequity that fuels it and is being fueled by it. Countries that are bearing the brunt and expected to face the worst of the climate crisis must be supported by the wealthier countries that have been the largest contributors to the crisis, both in supporting adaptation and mitigation as well as in reducing their emissions.

As a wealthy city and country we must be leading the way in decarbonising, and in raising people up in doing so. Climate justice is social justice. This is why we brought a motion in 2019 to Sheffield council declaring a climate emergency and that we must act to be net zero carbon by 2030.

Insulating houses and fitting solar panels and heat pumps will not only reduce household emissions, it will save people money. Improve public and active transport will reduce car dependency and enable those on the lowest incomes who are unable to afford a car to get around better, as well as the health benefits from walking and cycling.

We know the role all of these play in health, with air pollution in Sheffield contributing to the early death of 500 people a year. The driving causes of climate change are driving causes of health inequality. To address one we must address another.

A concept that we've been pushing as a group and I've personally been pushing in my role as a health committee member in the council is of a well-being economy. This is a way of looking at our economy not just in terms of GDP, but in terms of health and well-being outcomes, judging a successful economy by these and making decisions to improve health and well-being.

New Zealand, Scotland and Wales are just 3 countries that have adopted this model, and addressing the climate crisis has been Central to this health

Going back to the One Health approach and our interconnectedness, I was recently messaging someone I know who works in the NHS about the NHS Green plan. The council cannot address climate change on it's own, and neither can our health organisations, we need a One health approach desperately to do this. We have seen how humans can adapt and act in the face of crisis over the recent years, it is critical we do this at pace now for the climate crisis in the face of an ever narrowing window of opportunity, as stated by the latest IPCC report. We must act now to stay within a 1.5 C rise from pre industrial levels.