Green councillors have welcomed the decision to confirm progress towards a greener city centre, with better walking, cycling, public transport and green planting, as well as a FreeBee bus.
The decision confirms the Council's commitment to the continued pedestrianisation of Pinstone St, something opposed by some people who wanted to reopen it to motor traffic
Since 2019, Green councillors have made proposals for the FreeBee city centre circular bus to link up transport connections at a 10-minute frequency and help access in the heart of the city. A FreeBee bus is now set to be introduced, on a new route from Fitzalan Square to Moorfoot, following a formal decision of the council.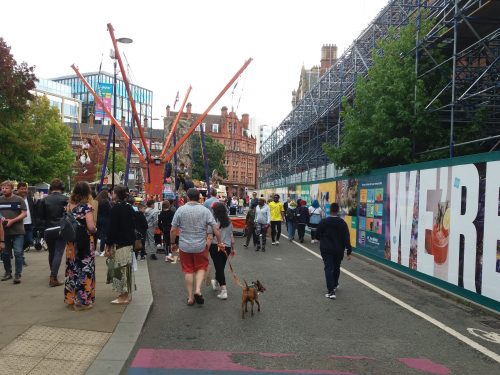 Martin Phipps, Green Councillor for City Ward, said,
"It's great to finally see sign-off on keeping Pinstone St closed to motor traffic. Residents have told us of the big difference the closure has made to air pollution. Medical professionals have petitioned the council around the importance of these walking, cycling and public transport schemes. It's joined up the Moor to Fargate and High Street, as well as allowing more reliable and faster bus services to pass through the centre.
"The delay of this sign-off by Labour has held up and caused uncertainty around the active travel and public transport schemes for the centre. It's good we can now move forward with upgrading bus stops and with the city centre Connecting Sheffield scheme, which will be a big improvement."
Cllr Douglas Johnson, Executive Member for Climate change, Environment and Transport, said
"This project will transform the city centre, offering a good-quality, attractive environment in place of a line of motor traffic. It will actively promote walking and cycling and will join up public transport links in the city centre. It will improve biodiversity, the appearance of the streets and resistance to flooding. The improvements to Fargate, Pinstone St and Arundel Gate and beyond will also make the city centre more accessible to disabled people. It will help make people healthier and enjoy the city more. It will include a major contribution to the creation of the new Pounds Park.
"This project allows us to invest multi-million pound awards from central government into Sheffield. It is a pity this project has been delayed by opposition from LibDem, Conservative and Labour councillors who opposed walking and cycling routes. However, it is a victory for cross-party working. Various claims opposing the improvements made at last September's scrutiny committee were debunked with carefully-compiled evidence and public support.
"I would like to thank all the people and businesses who showed their support for progress in the face of opposition. Together we can make the city a better place. This decision is a big win for everyone in Sheffield city centre now and in the future."
The Connecting Sheffield improvements are funded through the Transforming Cities Fund. The city centre scheme joins up long-distance walking and cycling routes into the city centre from Nether Edge, Kelham Island – Neepsend and from Attercliffe / Tinsley. This element is an ambitious scheme to transform Sheffield City Centre into a greener, more accessible and attractive place to live, work and spend time. Proposals and images of the scheme can be seen on the Connecting Sheffield site.
The report agreeing to the funding of the scheme is available on the Sheffield Council site.
The decision accepts £1.4 million of grant funding to work up the detailed design of the scheme. This will trigger government funding for construction works of about £16 million for this city centre improvements alone.