Information provided by Green Party Councillor Ruth Mersereau.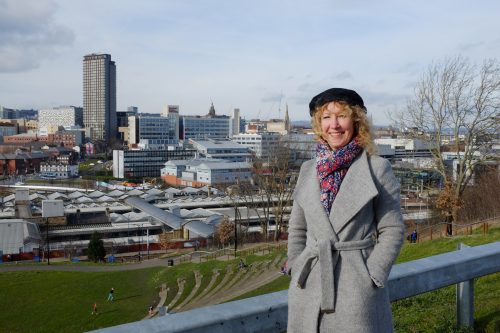 Sheaf Valley Scheme – bollards @ Little London Road bridge now in. Broadfield Rd scheme, inc. Glover & Wolsey Rd, to be installed subsequently. Key Benefits: a continuous walking/cycle route between Blonk St & Archer Rd, removing danger spots from the current route.
Nether Edge Connecting Sheffield scheme – works should start February 2023. Key Benefits: a continuous walking/cycle route between Nether Edge and the City Centre, removing danger spots from the current route.
Neepsend/Kelham to City Centre Route – expected onsite Oct. 2022, subject to FBC approvals from SYMCA & SCC. Key Benefits: continuous walking & cycle route between Kelham & city centre, removing danger spots from current route & making it easier to cross the Ring Road.
Darnall, Attercliffe & City Centre Route – should be on site February 2023, Key Benefits: creating a safer route between Darnall, Attercliffe and the City Centre, augmenting Five Weirs Walk. The route will serve this area, which already has Sheffield Hallam Uni on site.
Magna Tinsley – in progress. Key Benefits: safer crossing of Meadowhall Way; improvements at Tinsley improving access to Blackburn Meadows Way & off-road trail; route between Rotherham & Sheffield augmenting canal route, & more direct route betw Templeboro' & Meadowhall.
Active Travel Fund 3 – (1) Darnall "mini-Holland" scheme – consultants being appointed to do feasibility study. (2) East Bank Road connection to Duchess Road. Both schemes awaiting external funding.
Little Don Link, Stocksbridge – mostly off-road active travel route (approximately 15km in total, of which 5km is in Sheffield) – in progress, initial stage complete.
Stocksbridge Active travel network -new/upgraded routes towards Ewden/ Underbank – in prelim. design. Options for Deepcar to Oughtibridge being explored. Key Benefits: Linking Stocksbridge & Don Valley to Sheffield, avoiding A616; links to TPT & future Upper Don Trail.
Active Travel Neighbourhood Crookes/Walkley & Nether Edge – experimental scheme has begun. Three crossing points in Crookes, two in Nether Edge. Drop-in sessions in progress, advertised through Connecting Sheffield site. Key Benefits: cleaner, quieter, safer streets.
Beaver Hill Road, Dyche Lane and Nether Lane pedestrian crossing improvements, plus kerb realignments, signs and lines – in progress. Key Benefits: making it easier and safer for people to cross the road.
Angel Street extension (Grey to Green 3) – completed. Key Benefits: pleasant Public Realm environment, managing flood waters through the Sustainable Urban Drainage System and providing habitats for birds and insects in the city centre.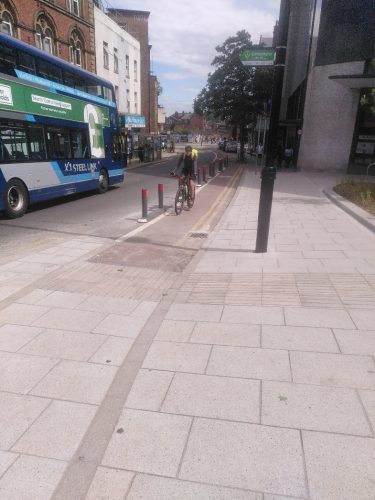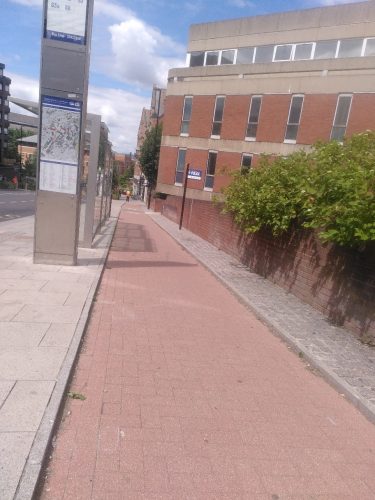 City Centre improvements (1) Pinstone Street – barriers to cycles to be replaced with bollards with new designs – soon (2) Exchange Street/Castle Street – linking Grey to Green to Angel Street etc, then Bank Street, Queen Street. Needs additional funding – (TBC)
Little Don Link, Deepcar – new bins, access plate widening, sweeping – complete. (2) Oughtibridge road safety scheme – expected to be installed Autumn 2022. Key Benefits: reducing collisions for all road users
Prince of Wales Road – improvements to existing cycle lane under the bridge at Darnall. Design has been submitted for road safety audit and scheme is being costed.
Sandford Grove – "The Sad Cycle Lane" – works to stop illegal parking on cycle route – completed, except for red surfacing (supply issues) (2) Traffic signal retiming at Leavygreave Rd – in progress. Key Benefits: improving crossing times for people on foot/on bike.
School Streets – 11 in progress: Anns Grove, Carfield, Nether Edge, Greystones, Hunters Bar, Byron Wood, Porter Croft, Athelstan, Westways, Bradway & Dobcroft Schools. Key Benefits: safer environment for children to walk to school, & creates benefits for people on bikes.
5 Weirs Walk & NCN Routes 627/67 – barrier removal/widening/replacement – in progress. Bollards have replaced barriers on both sides of Newhall Rd. Key Benefits: making routes accessible to legitimate users whilst deterring motorised users, so increasing network usage.
Five Weirs Walk – repair to flood damage. The sideroads have been resurfaced so that the diversion is better. Funding for repairs and future-proofing under discussion. Stevenson Road to East Coast Road due to be resurfaced.
Barriers – (1) Blackburn Valley/Smithy Wood – concrete blocks have been replaced by bollards and fence, creating 1.5m access. Completed, except for tree planting. (2) Barrier changes Manor to Shirebrook – in progress.
Netherthorpe Road underpass – removal of chicane barriers, plus measures to reduce pedestrian /cycle conflict through underpass – work starting imminently. Key benefits: convenient walking & cycling route between St Philips/Netherthorpe, leading up to Walkley & Crookes.
Cycle parking at transport hubs: (1) Dore & Totley – improved and with increased capacity – complete. (2) Meadowhall Interchange – delayed (3) Tinsley tram stop – barriers widened & stands installed. Key Benefits: so people can connect their journeys by
and
.
Cycle pump provision across city – repairs & relocation required of remaining pumps – in progress. Any new pumps will be placed off highway but publicly accessible – e.g. new pump at Kelham Island museum. Key Benefits: facilities to make it easier for people to cycle.
Cycle parking: (1) hub & potential training hub (City Centre) – in progress – fitting out site (Telephone House) in summer 2022; (2) additional cycle parking in neighbourhood centres and in city centre – in progress; (3) hub, Olympic Legacy Park – delivery date tbc.