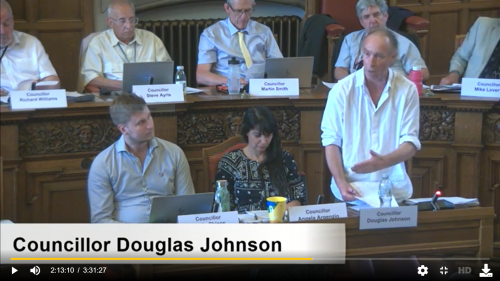 Greens expressed bitter disappointment in Labour and Lib Dem Councillors at the Sheffield City Council meeting on Wednesday 20th July, when they failed to come up with any realistic proposals to address the 30% cuts to bus services proposed for the Autumn.
Councillor Douglas Johnson said,
"Both Labour and the Lib Dems rightly chose to discuss bus services as topics at the full Council meeting as we all know of the expected cuts in services of up to 30% from 4th October. But they both showed they have nothing to offer – just blaming the Government and tinkering around the edges, asking for reviews and for someone else to do something but with nothing that would bring in more funds to support public transport"
"I asked the Council Leader, as a member of the Mayoral Combined Authority, whether he recognised that policies to encourage private car use, such as free parking, undermine public transport."
The Greens submitted the same amendment to both Labour and LibDem motions. They highlighted the option of introducing an Employers Workplace Parking Levy which brings in £9 million every year in Nottingham to support public transport initiatives and better facilities for walkers and cyclists. Greens also proposed lower fares for public transport balanced by higher parking fees for private cars and better enforcement of pavement parking and other offences.
Councillor Johnson said,
"Complaining about rising fares, unreliable services and cuts to bus routes is easy. Our amendment proposed that this council needs to grapple with the difficult questions of what is in our control that will have a positive impact on public transport. We need to encourage those who can to get out of their cars and use buses and trams instead. At the moment, relatively low cost parking and free access to drive into the city centre means there is no incentive to do that for anyone who can afford to run their own private vehicle.
The public looks to local politicians to come up with realistic and proven solutions to failing public transport, carbon emissions, clean air, equality of access and the cost of living. If people are going to have faith in politicians, they are going to want to see more than just hand wringing; they want to see action. Sadly, Labour and LibDem councillors joined forces to rule out even looking at these options."
ENDS

NOTES TO EDITORS

Under current proposals, bus services in Sheffield could be cut by up to 30% from 4th October 2022, when Covid-related Government subsidy comes to an end. Like all areas of the country, bus patronage is only about 72% of its pre-Covid levels.
The Green councillors' amendment states:
Amendment to be moved by Councillor Douglas Johnson, seconded by Councillor Bernard Little
That the Motion now submitted be amended by the addition of new paragraphs (j) to (o) as follows:-
(j) believes that politicians across South Yorkshire have undermined public transport for many years by promoting individual car use, through providing free or low-cost car parking in town / city centres, ineffective and insufficient parking enforcement and active opposition to improvement measures like bus lanes or residents' parking schemes;
(k) regrets the lack of ambition set out in the Bus Service Improvement Plan submitted to the Government by the South Yorkshire Mayoral Combined Authority and in particular that "success" would have meant fewer people using buses in the future;
(l) notes that bus operators are commercial companies and are not primarily there to provide a public service; and therefore believes in a need for public ownership and control of buses;
(m) believes that public transport is an equality issue, as only 35% of the population in the bottom 10% of wealth own a car, whereas 93% of the top 10% own at least one;
(n) notes that Yorkshire and Humberside already gets only £500 per head of population spent on transport compared with £1,476 for London (in 2020/21) and believes that the Government cannot be serious about "levelling up" until it guarantees equal funding; and
(o) however, recognises that this Council must do what it can to support as many buses on as many routes as it can and therefore requests the Transport, Regeneration and Climate Policy Committee to consider using all the levers at its disposal to make public transport more attractive than private cars, including:-
(i) advertising to promote public transport usage, in particular aimed at those who do not routinely use buses and including through the universities;
(ii) lower fares, multi-operator tickets and tap-on technology as standard;
(iii) measures for multi-modal travel, including bikes on trams;
(iv) higher parking fees for private car ownership;
(v) more priority routes for buses and trams;
(vi) higher quality bus or tram shelters, and staffed bus/tram interchanges;
(vii) more effective enforcement of illegal, selfish and dangerous parking that often goes unchecked;
(viii) schemes such as an employer's workplace parking levy to reduce the perks of free parking and raise substantial sums to provide improved bus services, tram services and better walking and cycling infrastructure;
(ix) allowing a reasonable increase in regulated taxi fares; and
(x) encouraging innovative neighbourhood community hub bus services that serve local shopping areas.