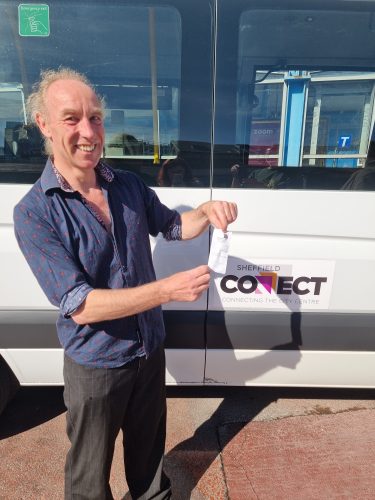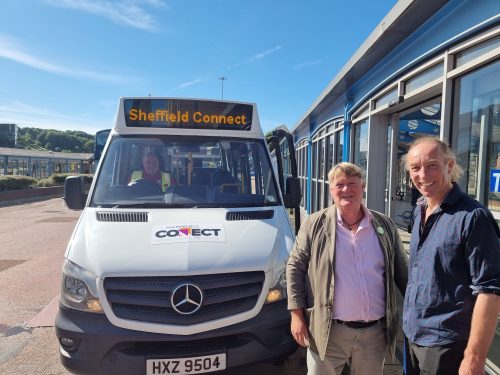 Green Party councillors and campaigners are welcoming the success of the campaign to bring back the FreeBee city centre circular bus, after calling for it since 2018. It is now branded as "Sheffield Connect."
Cllr Douglas Johnson commented,

"Transport is all about connecting people up with where they want to go and I am so pleased to see the FreeBee bus return to the city centre.

"As Executive Member for Climate Change and Transport last year, I worked to promote the FreeBee alongside the opportunities arising from opening up Pinstone St to safer walking and cycling routes. The streamlining of existing bus routes – to make them move more quickly through the city centre – was to be helped by a connecting city centre circular bus.

"Good bus connections benefit everyone. The FreeBee bus originally ran from 2007 to 2014 when it was cut by a previous administration. Since 2018, Green councillors have been calling for its return, with costed proposals being included in our budget amendments since 2019.

"I am delighted that the bus will be free of charge to anyone who has got the bus or tram into town. This is really important for access, encouragement and bus loading times."

Green transport campaigner, Thomas Atkin, added,

"The Sheffield Connect is great news for Sheffield City Centre. As a disabled person and as a carer, having the Sheffield Connect means no more having to get on certain buses because they drop me near the station. It makes it easier to get around town whichever direction you come from.

"It will give people with disabilities greater access to the city centre than previously. Sheffield Connect is the gateway to our City Centre for people arriving fresh faced at the station, for students of all ages and for people who have lived here all their lives."

Whilst Cllr Douglas Johnson was the Executive Member for Transport, a council priority for electric buses was the city centre FreeBee. Cllr Johnson explained,

"The bid for grant funding to the Department for Transport has been successful but it takes time to procure all the electric buses required."

ENDS

NOTES TO EDITORS

1. The previous FreeBee was withdrawn as a cost-saving measure in 2014
2. The Green councillors' amendment to a motion at the council meeting in June 2018 called for a return of the FreeBee city-centre bus service and an integrated ticketing system across all public transport.
3. Under the Green budget proposals, the vehicles used for the FreeBee service would be buses in public ownership.