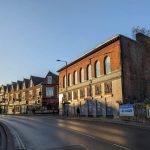 A developer has withdrawn their application to demolish the former Highfield Coffee and Cocoa House building on London Road following objections from heritage groups and local Councillors.

According to the Hallamshire Historic Buildings Society, The five storey Highfield Cocoa and Coffee House was built in 1877 by Sir Frederick Thorpe Mappin to designs by M.E. Hadfield & Son. The distinctive concrete frieze panels on the front of the building were added in 1967.

Councillor Douglas Johnson, Leader of the Green Group on Sheffield City Council submitted a formal objection,
"Regardless of its formal listed status, it is clearly a significant heritage asset in the area, where the character of the area is under threat because of piecemeal development.
If it is necessary to seek an Article 4 Direction to safeguard the building, I would support that course of action.
It seems to me that there is significant public opposition that should be properly taken into account. I would therefore ask that this demolition notice is deferred along with the related application."
On hearing the announcement of the deferral Green Councillor Peter Garbutt, Green Councillor for Nether Edge and Sharrow ward said,
"Local people value this building as part of their local heritage and would be dismayed to see it go. The news that the demolition notice has been withdrawn following local pressure is very welcome. The important thing now is to secure the future of the building and ensure that it is brought back into use."
Councillor Douglas Johnson highlighted ongoing threats to Sheffield's heritage.
"This is far from the only historic building under threat of demolition. The Old Coroner's Court on Nursery Street is still standing but in a dilapidated state after a Planning Inspector over-rode the views of the elected Planning Committee (1). The developer has now gone bust. At the time, heritage campaigners had to work hard to promote the value of such buildings when the council controversially cancelled the public consultation on a Conservation Area for Castlegate.
"This fresh approach from the council is welcome. Local people should not have to continuously campaign to protect our past."
References

1 – Old Coroner's Court Sheffield: Developer due to demolish historic building goes bust | The Star