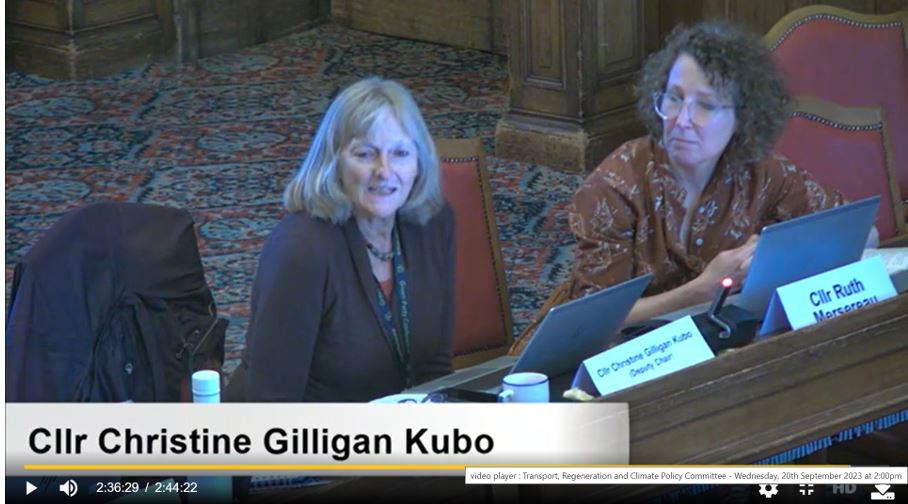 Green councillors  expressed anger and frustration after the Transport, Regeneration and Climate Policy Committee voted to remove traffic-calming measures on Archer Lane in Nether Edge and reopen it to lorries, cars and vans. .

At the same meeting, Greens welcomed the decision to confirm the Sheaf Valley cycle route, including the permanent protection for Little London Rd. They also welcomed the remaining traffic calming in Walkley and Crookes being confirmed.

Cllr Ruth Mersereau, a member of the Transport, Regeneration and Climate Policy Committee said, on the Sheaf Valley Cycle Route,

"Schemes like the Sheaf Valley Cycle Route provide long-term benefits to all road users by providing real choices. Routes like this help people who are fearful of travelling on a hostile road network, and those who have no access to a vehicle – between 20-75% of residents in the vicinity. It's fantastic to learn that the scheme has been so successful in meeting its aims to increase walking and cycling, with cycling increasing by 66%, showing the latent demand for cycling. There have also been other benefits, like a reduction in crime."

However, only Green Party councillors voted in favour of the continued closure of the Archer Lane rat-run, meaning that road safety measures will now have to be removed.

Cllr Christine Gilligan, Deputy Chair of the Transport, Regeneration and Climate Policy Committee said

"The community in Nether Edge has been let down by the Council today. The changes were a step in the right direction towards safe, quiet and liveable streets. Now they will have rat-running and speeding cars again. There is no way that this can be regarded as progress ."

Cllr Ruth Mersereau added,

"The vast majority of people from Nether Edge who contacted me, were in support of the Active Travel Neighbourhood. They have been ignored by those Lib Dem and Labour councillors who have voted to re-open these roads to motor vehicles today. This decision does nothing to improve Sheffield's appalling statistics on road safety. This is a huge step backwards for walking, cycling, for public health, for road safety and for better, more liveable neighbourhoods

"Archer Lane is used by large numbers of children walking to school – Mercia, Carterknowle and Holt House. Children don't generally get consulted on transport schemes or rat runs, but they are the ones who have lost their play space, lost their freedom to walk/pedal to school safely and their chance to socialise safely with friends."

Cllr Maroof Raouf, who represents Nether Edge and Sharrow ward, said,

"As the local Councillor for the Nether Edge area I am dismayed at this decision. This choice not only goes against the data that has been collected but also fails to prioritise the well-being of my constituents. It's very disheartening to see a decision that disregards the long-term consequences for residents of Nether Edge and I hope that in the future, different elected Members can make more responsible choices that prioritise the well-being of my constituents

References

The decisions on the Sheaf Valley Cycle Route, Crookes / Walkley and Nether Edge active travel neighbourhoods were taken at the meeting of the Transport, regeneration and Climate Committee on Wednesday 20th September 2023.
Agenda for Transport, Regeneration and Climate Policy Committee on Wednesday 20 September 2023, 2.00 pm | Sheffield City Council

Each of the traffic-calming measures had been established under an Experimental Traffic Regulation order which must be confirmed or removed after 18 months of a trial.

The proposal to reopen Archer Lane to motor traffic was made in a pre-prepared amendment by Cllr Andrew Sangar (LibDem) and seconded by Cllr David Barker (Labour).