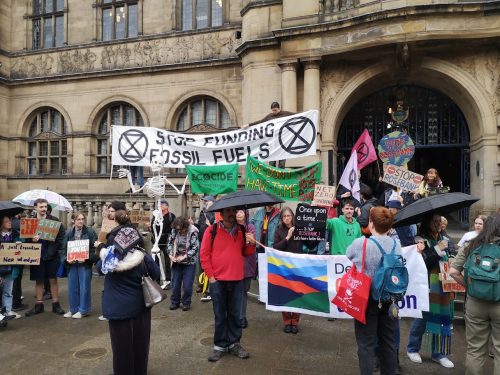 It was encouraging to see a big turnout at the Stop Rosebank demonstration in Sheffield on Saturday, called at short notice following the Government's announcement. Organised by Climbers for Climate, the rain didn't put people off joining in songs and chants and listening to the speakers.
Councillor Douglas Johnson couldn't find any roses in Rosebank. He said "We are promised things like lower fuel bills. It's not going to happen. Any oil or gas will be sold on the open market. It doesn't mean lower fuel bills for any of us here. What it does mean is our Treasury bailing out a shed load of money to people who earn it already. Who pays for that? You do!"
Rosebank will be developed by oil and gas giant Equinor, which is majority-owned by the Norwegian government (40%), Canadian Suncor Energy, known for its development of Canada's dirty tar sands (40%) and Israeli firm Ithaca Energy (20%).
The UK government has chosen to side with the interests of the oil and gas industry over the public good. The soaring cost of fossil fuels is the cause of the current cost-of-living crisis and people are now aware of what is being done to our planet by profiteering oil and gas companies. People want a reliable, affordable energy supply that doesn't put the planet at risk.
See the full report on the demo here.  Click here to get involved in the Stop Rosebank campaign