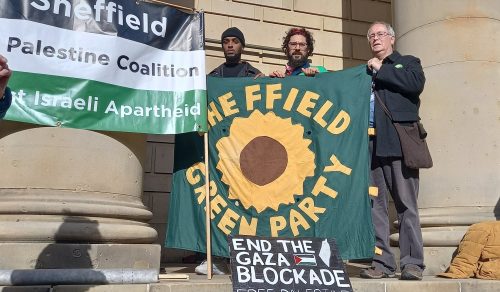 Cllr Alexi Dimond made this statement at the Justice for Palestinians demonstration in Sheffield today. (Oct 14th 2023)
We are here today because we our united in our desire for peace, justice & equality and to condemn all war crimes, whoever commits them. We send love and solidarity to all those who are grieving now, whose families & loved ones have been killed, injured who and are under threat.
We reject racism, we reject antisemitism, we reject Islamophobia and we reject ethnic cleansing, settler-colonialism and apartheid.
We know that international law must apply equally, and that attacks on civilians and collective punishment can never be justified.
That is why we condemn our government for supporting Israel's genocidal assault on Gaza. An attack on a captive civilian population of 2.3 million people with nowhere to go. Two thirds of whom are refugees & half of whom are children.
Cutting off water, food & medicine, and targeting civilians are war crimes under international law. It is the definition of collective punishment. It is genocidal.
In the last few days, we have heard unequivocal support for Israel's war crimes from both the Leadership of the Conservatives and the Labour Party. Shame on them. They are complicit in these war crimes and must be held accountable.
I urge everyone to join groups supporting Palestinian rights, donate to organisations like Medical Aid for Palestinians, write to your MPs, Councillors, let them know that you will not vote for them if they support war crimes and apartheid.
End the occupation, and end Israeli apartheid, we need justice and equality in Palestine, and we need it now.