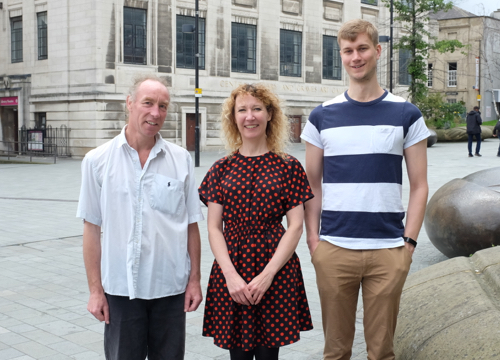 An application for a gambling licence in the centre of Sheffield has been turned down following opposition from Green Party Councillors.

City Ward councillors had lodged an objection to a new premises licence from "Royal Amusements" for a slot machine arcade on Fargate. The comments were considered by Sheffield City Council's Licencing Committee on Monday, together with evidence from the police, public health, Sheffield Cathedral and others. Cllr Douglas Johnson spoke at the meeting about the risks to vulnerable people and other residents in the city centre.

Following the Committee decision to turn down the application Councillor Douglas Johnson, Leader of the Green Group and a Councillor for City Ward said,

"I'm very pleased the ward councillors' objection to a new gambling shop on Fargate was upheld today.

"The Licensing Committee heard our objections, which I presented at the meeting, together with evidence from public health professionals, police, the Cathedral, Victoria Hall, ChangingSheff and residents and refused the application for a premises licence.

"We really didn't want to see gambling place in the heart of the city. Millions of pounds are being spent to upgrade Fargate. Opening a slot machine arcade would only have damaged this ambition. It would also undermine the intense work done day in and day out by public services and local charities working with the large number of people in the city centre who are vulnerable to such addictions.

"Gambling causes harm anywhere: we have heard of suicides related to gambling. In addition to that, the police confirmed that Fargate is a hotspot for violent crime. We all know it's a hotspot for anti-social behaviour. Even the applicant told us that closing betting shops on Haymarket "improved" the area.

"The business claimed Fargate isn't a residential area but thousands of people live in the city centre now, many of them students who would be at risk. I am pleased the council has used its muscle to refuse a harmful application."

Fellow Green City ward councillor Martin Phipps added,

"It is great news that the licensing sub committee has listened and taken note of the overwhelming evidence against granting the licence for a gambling shop on Fargate. Residents, public health officers and the police clearly raised their concerns, and I'm pleased they were listened to.

As ward councillors we believe the council should look at Cumulative Impact Policy on premises such as gambling shops in the city centre to make it clear that the council believes the centre has enough gambling shops, and to support residents, public health, the police and other partners and agencies in making their case against future applications that would be detrimental if granted."
The National Gambling Support Network provide free, confidential and personalised support for anyone who's experiencing problems with gambling, as well as those affected by someone else's gambling.
If you feel that you, or someone else is at risk of gambling-related harms, please call the National Gambling Helpline on 0808 802 0133, available 24/7. Alternatively, click here: 


References

Report on application to grant a premises licence for an Adult Gaming Centre made under the Gambling Act 2005 for Royal Amusements, 9 Fargate, Sheffield, S1 2HD

REPORT OF THE ASSISTANT CHIEF EXECUTIVE OF (sheffield.gov.uk)