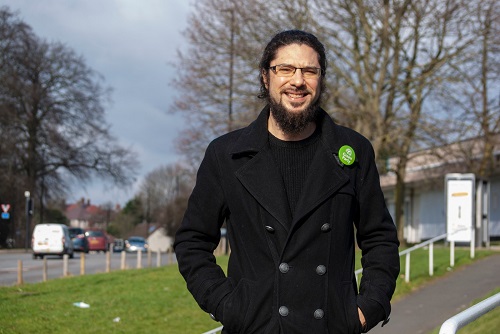 I'm really excited to be the Green Party candidate for Gleadless Valley in the 2021 Council Election. I've been an active campaigner in Sheffield for many years. I believe in accountable democracy which encourages participation, healthy spaces to live and work, tackling inequalities and discrimination, and taking action on climate change immediately.
For too long Sheffield Council has dragged its feet on issues such as the environment and climate change, transparency and accountability, producing a progressive local plan, decent housing, active travel and waste management. They've also wasted taxpayers' hard-earned cash on very poor value private contracts that don't deliver quality services.
Make your vote count – vote Green!
At this election, we have a real chance to change path, and work together to create the Sheffield we all need. Green politics is about empowering people and participation; to show that politics can be something you do, not something done to you. If elected, I would work with the residents of Gleadless Valley to organise and demand positive change for the ward.
I live in Newfield Green and spend most of my time in the Valley, Heeley and Meersbrook. I use its local parks, shops, services and woodlands. I share the desire of all local residents who wish to ensure it is a safe, clean, green, inclusive area which benefits from good transport links, schools and infrastructure.
I frequently report issues such as fly-tipping and unsafe road surfaces; I support longer opening hours at the recycling centre on Blackstock Road, action on air quality, plans for a 20mph speed limit around Myrtle Road, and the campaign to reopen Heeley Station.
Unacceptable levels of deprivation exist in Gleadless Valley and during the pandemic I have made referrals to Gleadless Valley Foodbank and delivered food parcels and clothes to people in need.
I believe work should provide security and stability and I'm an active trade union member. I'm also involved with the campaign to replace Universal Credit with a fairer system that does not force people into poverty and destitution.
I'm a member of the community union Acorn, which supports tenants' rights in Sheffield, including in the ward. I support city-wide landlord licensing and would also work to ensure that the Gleadless Valley Masterplan puts the views of residents first, protects green spaces and the valuable communities in Gleadless Valley.
Regardless of where we come from, what colour we are or how we were brought up, everyone wants the best for our community. If you would like to support my campaign and help elect a new Green Councillor, or raise any issues, please get in touch.