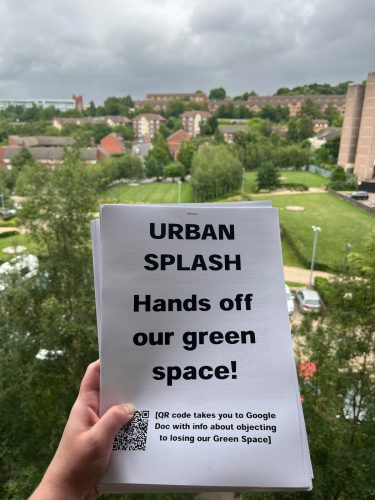 Sheffield Green Party are supporting Park Hill Residents campaigning to stop their green space from being turned into a car park. All three City Ward Councillors have written objecting to the plans.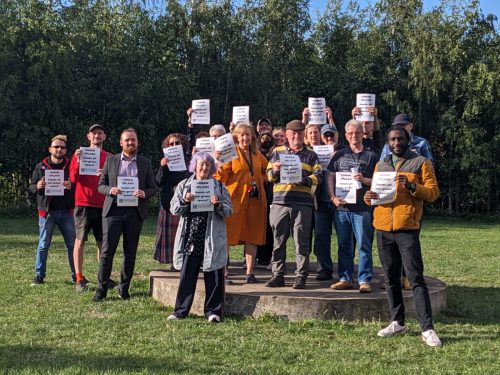 In the original plans the space was designated to be a Sculpture Park, but the deal with S1 Artspace fell through due to lack of funding. So now Phase 4 of the flats regeneration proposes to turn the block alongside Duke Street back into residential use and build 76 car park spaces where the lawns are. Park Hill residents are furious at this proposal and have launched a very well-organised campaign to protect their green space from development.  
You can follow the campaign at https://twitter.com/SOSParkHill
To add your objection go to https://planningapps.sheffield.gov.uk/online-applications/applicationDetails.do?activeTab=dates&keyVal=RWI1PRNYLE300
The City Ward Councillors objection was as follows.
I'm writing on behalf of the three City Ward councillors regarding planning application 23/01960.
We welcome the long overdue development of the Park Hill homes.
However, we very strongly object to the proposal to pave over existing green space.
Tarmacking over what is a popular green area and community open space is completely unacceptable.   We need to improve surface water management, increase biodiversity and reduce the heat island effect in our city.  Tarmacking this area prevents the site from retaining water, and draining properly, and has onward effects on flood management.  Grass absorbs carbon, retains moisture, increases biodiversity and reduces the heat island effect in our city.   The loss of this green space completely undermines the city's commitment to reduce carbon emissions, and its goal to reach net zero by 2030.  It's also at odds with the claim to be an "Outdoor City".
Sheffield City Council has declared a nature emergency and it's crucial that we safeguard existing ecological and wildlife protection.  The environmental plans being proposed within the Local Plan should not be undermined.
It's well known that provision of free car parking enables more driving and the car park would generate huge amounts of additional traffic in the area.  This site is in an excellent location for public transport links, and is also part of an active travel route. There are plenty of alternatives available for people who wish to own a private vehicle without the need to store on-site.  
Up to 100 extra vehicles a day on South Street is a degradation of the Strategic Cycle Network and presents significant additional road safety concerns in a city with an appalling record for road deaths and serious injuries.    There would also be an increase in noise and pollution in a densely populated area.  Car reliance and usage could be reduced by improving the Strategic Cycle Network, as CycleSheffield has also suggested.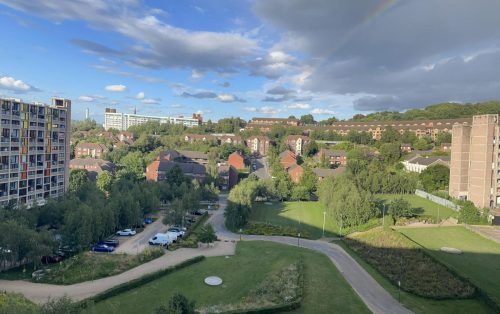 In addition, we are extremely concerned that Urban Splash has already reduced the travel choices of many of its residents in failing to meet a condition of a previous application (18/01699/COND9) to provide 198 cycle parking spaces in an external store. Only a 34 unit store has been provided as part of phase 1 of the development and this is hugely oversubscribed.   Urban Splash should be conditioned to provide  cycle storage recommended and required of them by the landlord (SCC) of 198 dedicated (external to units) cycle parking spaces and residents and user groups should be consulted on the design of the provision.